Nuneaton & Bedworth: Care > Intermediate /after hospital care services
Intermediate or after hospital care is provided by services on a short term basis, at home or in a residential setting, to people who need some degree of rehabilitation, convalescence, or recuperation. The key aims of these services are the prevention of unnecessary hospital admission, to facilitate early hospital discharge, to prevent premature or unnecessary care home admissions, and to enable people to live as independently as possible. Intermediate Care can be described as services that don't need general hospital resources, but does substitute for some parts of hospital care. Intermediate Care is a generic term that covers a wide range of services that help prevent unnecessary admission to hospital, or help facilitate early discharge and it offers elderly people an attractive alternative to hospital care. Rehabilitation at home can support people recovering from an illness, and can support their carers, relatives, and neighbours. It offers people the opportunity to convalesce and recover with a planned programme of care and support. After hospital care is usually provided by a single organisation which brings together and provides a variety of services for people whose care needs can be complex. Intermediate care services have to link with care and social work agencies, as needed. Short term rehabilitation services can be provided in various settings, such as people's own homes (including sheltered or retirement housing), day centres, day hospitals, community hospitals, and care homes. If not provided in the home of an elderly person, rehabilitation should be provided in a residential setting close to their home. Free short term rehabilitation care can be provided by statutory, independent and voluntary organisations often working together, whilst private companies charge for these services. There may be charges for intermediate care provided for a week or two within a statutory or voluntary sector care home. After hospital care or time limited rehabilitation focuses' on the needs of the individual, maximizing their independent living skills, and provides an on going flexible but planned rehabilitative care approach. These services help older people to regain independence and confidence. On average, time limited intermediate care is provided for up to 6 weeks, and it is targeted at those older people with complex health care needs that are changing for one reason or another.
21 - 30 of 30 Intermediate /after hospital care services in Nuneaton & Bedworth.
LJM Homecare Ltd
LJM HOMECARE
LJM is based in the West Midlands and provides personal and supporting care to circa 270 people in the black country and surrounding areas. We are registered with the Care Quality Commission (CQC) and are devoted to prov...
Contact:
LJM Homecare, Unit 3 Shaw House, Shaw Hellier Avenue , Two Woods Lane, Brierley Hill, West Midlands, DY5 1TA
.
Olut Services Ltd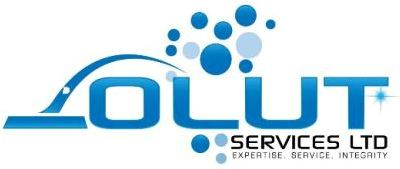 Live in Care Services
Our Live-in care service meets all areas of your health care, emotional and social needs. It supports your well-being and maximises independence, enabling you or a loved one to remain active and engaged with the people w...
Contact:
Olut Care Agency, Office 104 Business Centre,, Heath Place Ash Grove, Bognor Regis, West Sussex, PO22 9SL
.
Pastures Home Care and Rehabilitation Services Ltd

Pastures Home Care and Rehabilitation Services Ltd
Pastures Home Care and Rehabilitation Services Ltd offers uniquely tailored adult domiciliary care, end of life care; palliative care; adults with learning disabilities; general physical disabilities, full...
Contact:
Home Care and Physiotherapy, 11 Jewsbury Way, Thorpe Astley, Braunstone, Leicester, Leicestershire, LE3 3RR
.
Rance Healthcare Services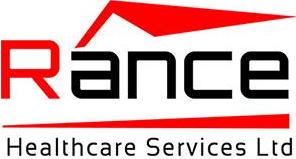 Rance Healthcare Services Ltd
We provide vital domiciliary care services to support individuals in Wolverhampton, Shrewsbury, Telford, Dudley, Staffordshire, Shropshire and beyond who wish to stay in their own homes. wish to stay in their own homes. ...
Contact:
Rance Healthcare Services Ltd, 84 Salop Street, Wolverhampton, West Midlands, WV3 0SR
.
Raystra Healthcare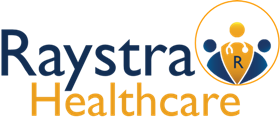 Raystra Healthcare
Raystra Healthcare provides a full spectrum of care across the UK, including practical care, personal care and complex care. Raystra Healthcare provides care and support in the community with a view to preventing or dela...
Contact:
Home Care, No1 Business Centre, 1 Alvin St, Gloucester, England, GL1 3EJ
.
Real Care Health Services

Realcare Health Services
Realcare Heath Services is a Nursing Agency based in Dagenham which specialise with complex care packages, we supply homecare and home nursing services throughout England. Our services include domiciliary care projects a...
Contact:
Realcare Health Services, 16 Lockwell Road, Dagenham, Essex, RM10 7RE
.
Routes Healthcare

Care at Home
Routes home care offer a full and flexible care and support service in your own home helping you with personal care and practical support to enable you to live at home in your own community with as much independence as p...
Contact:
Routes Healthcare West Midlands, Chapmans Passage, Birmingham, B1 1QU
.
Saga Group Ltd


Patricia Whites Live-in Care
Patricia White's is a long-established and highly regarded Care Agency that provides an efficient, professional and personal introductory service for both elderly and disabled Clients. We help our Clien...
Contact:
Patricia White's, Avaition House Cross Oak Lane, Crossoak Lane, Redhill, Surrey, RH1 5EX
.
Sodark Care Ltd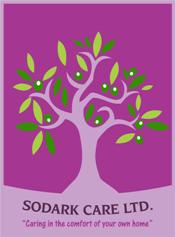 Sodark care
Sodark Care provides Round-The-Clock varied care services to customers in the comfort of their own homes,aimed at promoting their independence and supporting their confidence to be able to engage with their communit...
Contact:
Sodark care, 9 Imex House 575-599 Maxted Road, Hemel Hempstead, Hertfordshire, HP2 7DX
.
The Care Agency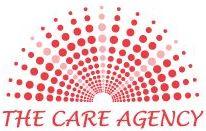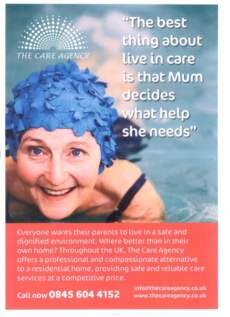 The Care Agency
The Care Agency has been offering a live in care service for 20 years, with personal attention to every detail. We are a national company, who introduce kind, warm and compassionate carers with traditional values wh...
Contact:
The Care Agency, 23a Church Street, Lutterworth, Leicestershire, LE17 4AE
.
back to directory of Intermediate /after hospital care.