West Lothian: Transport services
1 - 5 of 5 Transport services in West Lothian.
Adapted Vehicle Hire Ltd


Wheelchair Accessible Vehicles / Adapted Cars
At Adapted Vehicle Hire, we see ourselves as more than just a vehicle rental company because we understand that everyone's requirements are different. We provide a service to our clients, enabling them to get back ...
Contact:
Hire Desk, Adapted Vehicle Hire Ltd, Unit 508, Stone Close, West Drayton, UB7 8JU
.
British Red Cross Society

Transport support
We can offer you a driver with a vehicle providing door-to-door support. Besides transport, we can also provide an escort who, if necessary, will stay with you throughout your journey. The service aims to: ...
Contact:
East Scotland, 1b Inchmuir Road, Bathgate, West Lothian, EH48 2EP
.
CarePlus Scotland (Ltd)


Home care / Hospital at home
We provide both registered nursing and home care staff, for : All Personal care, Meals, accompanied outings, such as hospital, vets etc. Respite home care to relieve family support, ie holidays etc or day relief.&nb...
Contact:
Care at Home Services, 59 Bonnygate, Cupar, Fife, Cupar, Fife, KY15 4BY
.
Handicabs Lothian


Dial-A-Ride
When does it operate? The service operates seven days a week including evenings, subject to availability. How does it work? Once registered, you simply phone 0131 447 9949 for Edinburgh, Midlothian and East Lothi...
Contact:
Handicabs Lothian, 24/3a Dryden Road, Loanhead, Midlothian, EH20 9HX
.
WavsGB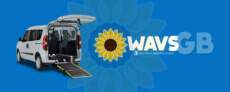 WavsGB
WavsGB offers vehicles adapted to carry wheelchairs for sale or hire Hire can be on a daily basis or long term We offer at home vehicle demonstrations for vehicles to be purchased and delivery options for our hire vehic...
Contact:
WavsGB, Westway Garage, Marksbury, Bath, Avon, BA2 9HN
.
back to directory of Transport.