Published on Wednesday 30th of August 2017
The UK's larges building society has launched an innovative programme to support local projects aimed at providing decent places to live in communities which need it most. The housing needs and aspirations of older people are targeted alongside those of families and younger people.
The programme has been launched in the North East and Cumbria, where Nationwide is looking to:
Provide grants of up to £50,000 for housing projects
Invite applications from housing charities and causes
Fund projects that improve local housing issues
Form Community Boards, made up of Nationwide members, employees and local charity partners region-by-region
Ask its members to vote for which projects we should support in their local communities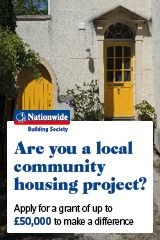 If you have an idea for a housing project in one of the regions below, and need funding to make it happen, read more about the programme on Nationwide's website.
If you live in one of the regions below, and are a member of Nationwide, you are invited to join the Nationwide Community Board which will scrutinise all applications for funding.
Nationwide Community Grants programme covers:
Durham
East Yorkshire
North Yorkshire
Cumbria
Northumberland
Tyne & Wear