Published on Monday 1st of January 2018
During 2017 nearly 4 million people visited our site. We know that they include almost equal numbers of:
Older people themselves;
Families, carers and friends; and
Professionals who work with and for older people.
All of you look to HousingCare to provide independent and impartial information about retirement housing, as well as services that can help us live safely and well at home, wherever that might be. In 2018 we aim to continue to improve the range and depth of the information we present services we offer.
For those considering moving home, we end 2017 with a record 25,000 retirement housing developments and schemes presented on the site. These include properties to buy and rent in all types of developments – from Abbeyfields and Almshouses to Retirement Villages, traditional sheltered schemes to luxury new apartment blocks. 2,400 currently available properties are also flagged – for those who are ready to move.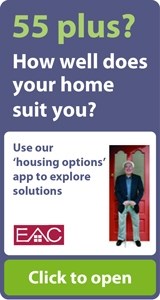 For those looking to adapt or repair their homes, or for home help services, or for day centres, lunch clubs or transport services, we present details of over 9,000 services UK-wide.
And for those not sure whether to stay put or move, our new, local Housing Options for Older People (HOOP) 'app' offers information and suggestions for tackling the most common problems older people need to address to 'future proof' their homes.
Thank you for visiting HousingCare, and we hope you find your visit worthwhile.
The EAC team