Published on Wednesday 13th of January 2016
EAC are excited to be working with the Law Commission in hosting an event on the 14th of January that will bring together the leaders in retirement leasehold housing.
This event comes as the Commission's consultation into 'Event Fees' in residential leases draws to a close at the end of the month. EAC has played a key role in the development of the Commission's consultation paper through our role in the advisory panel and the provision of important retirement housing data.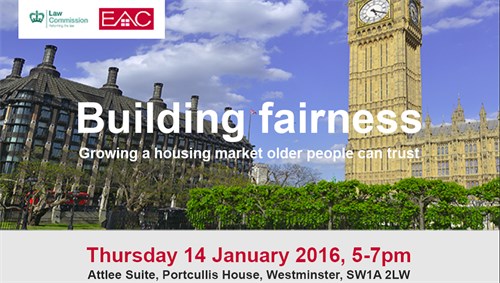 We hope that the work of the Commission, along with ongoing support from industry bodies such as the Associated Retirement Community Operators (ARCO) and the Association of Retirement Housing Managers (ARHM), will begin to restore confidence within the leasehold market for retirement housing.
EAC will continue to work closely with experts, developers and representative bodies from the sector who we hope will embrace any change in policy or law that the Commission feels is necessary.
The closing date for responses to the consultation is the 29th of January, if you would like to have your say then you can submit your response here: http://www.lawcom.gov.uk/project/transfer-of-title-and-change-of-occupancy-fees-in-leaseholds/