Edinburgh: Home maintenance > Decluttering services
1 - 4 of 4 Decluttering services in Edinburgh.
better organised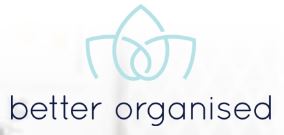 Professional Decluttering & Organising
In-person Decluttering & Organising Sessions Did you know that the average UK home contains 300,000 items? No wonder we sometimes end up feeling overwhelmed by our possessions. That feels even more overwhelming if y...
Contact:
Better Organised, Glasgow, G62 7EL
.
Space and Time Decluttering

Decluttering
I always feel that because the client is employing me it should be me doing all the work, as you should have it as easy as possible. So I certainly don't expect you to be running around putting thing away or cleaning cu...
Contact:
Space and Time Decluttering
.
The Help Edinburgh

Decluttering and home organising
Moving house can be an exhausting and hugely stressful time. It is a well acknowledged fact that a clutter free home with defined zones will sell faster and for more money and without a doubt any money s...
Contact:
The Help Edinburgh
.
The Home Straight
The Home Straight
If you are an older person, The Home Straight is Scotland's only expert provider of services designed to help you move to a new home or adapt your current home to enable you to live there safely...
Contact:
The Home Straight
.
back to directory of Decluttering.