Stannah Lifts Ltd
Stairlifts, lifts and homelifts to aid mobility
What does it do?
What we offer you
At Stannah, we don't just build quality stairlifts, we also aim to give you the best possible service every step of the way.

Our sales and installation process
Once you've decided that a stairlift is the right solution for you, we will be on hand to guide you through every phase of the process, from selecting the right model all the way to installation. All our employees are fully trained to work in a professional and considerate manner and take pride in knowing that they have done a good job for you.

Safety and security
We ensure that every stairlift manufactured complies with all European safety standards. Whether you order a new, reconditioned or rented product, your stairlift will never leave our factory in Andover, Hampshire until it passes rigorous safety checks.
Your safety is at the heart of everything we do and our commitment to this is underlined by our membership of the British Healthcare Trades Association and Lift and Escalator Industry Association.

Aftercare, Removal and Re-use scheme
Aftercare, always available
We have our own 24 hour call centre, so you can always speak to someone from Stannah, every day of the year.
All new products come with a two year warranty and two free service checks, if you have purchased your stairlift with the aid of a grant or through a third party then the warranty period may differ.
Reconditioned stairlifts are covered by a one year warranty and one free service. When your initial warranty runs out, you can take out the Stannah Service Contract, and be sure that your stairlift will receive the maintenance it needs for a long and problem-free service.

Removal and Re-use Scheme
At Stannah, our end to end service means that when you no longer require the use of your stairlift, we can remove and dispose of it in accordance with national environmental standards. If your stairlift was new and is less than four years old, or if it was a reconditioned product and is less than two years old for a curved model and one years old for straight, we may be able to offer you a nominal payment – as long as the stairlift is in good condition and was regularly serviced
by Stannah. Due to cost of removal, reconditioning, storing, testing and redistribution, this buybackpayment may only be around 5 -10% of the original price paid. For full details of the removal and re-use scheme please call our Removals Team on 01264 384 763.


Who it is for?
People who need stairlifts to aid mobility in the home
Where it is available?
National service (England, Scotland, Wales).
What it costs:
Please contact us for more details
How to access or apply for it:
You can visit our website or use the telephone or email links above.
Classification(s):
Info last updated:
26/07/2021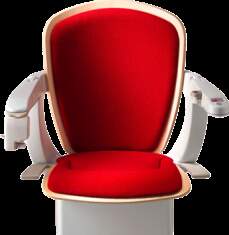 Provider

Watt Close, East Portway, Andover, Hampshire, SP10 3SD