Care & Repair Renfrewshire
What does it do?
Care & Repair Renfrewshire provides free and confidential advice and assistance to older people and people with disabilities. The aim is to enable repairs, improvements and adaptations to be carried out to allow our clients to maintain their independence and remain in their own homes comfortably and securely.

We may be able to help you with fabric repairs to your property, if you are an owner occupier or private tenant. Types of work include:-
• Re-roofing and roof repairs
• Re-roughcasting or rendering
• Structural repairs
• Eradication of rising or penetrating damp
• Eradication of dry rot, wet rot and woodworm
• Lead main replacement
• Provision of standard amenities

We are able to assist with arranging adaptations and extensions to be carried out to suit the requirements of a disability. The first point of contact should be a Council Occupational Therapist who will carry out an assessment to determine your requirements and once the type of work required is established, may refer the case to Care & Repair.

We will work closely with your Occupational Therapist and provide all the necessary technical back-up to confirm feasibility of the proposal. We can then provide the following services:-

• Co-ordinate consultants if drawings or statutory approvals are required
• Prepare specifications
• Arrange estimates for the work
• Apply for council improvement grants on your behalf
• Arrange for work to be carried out and visit during work in progress to advise and
assist

Our Small Repairs Service is available for anyone aged 60 or over living in Renfrewshire or East Renfrewshire. It is also available to people under 60 who have a disability providing they are in receipt of Disability Living Allowance, Incapacity Benefit or Employment & Support Allowance. We can assist homeowners and council, housing association and private tenants. Our aim is to help those who either cannot afford the cost or find it difficult to get a contractor to carry out such minor work.

We employ our own qualified joiners to carry out the works. Labour is provided free of charge and the client is asked to pay the cost of materials only. In certain circumstances we may also be able to provide materials free.

Who it is for?
People who are older or have disabilities and live in Renfrewshire and East Renfrewshire
Where it is available?
Regional service (East Renfrewshire, Renfrewshire).
How to access or apply for it:
Additional information:
We have been operating since 1988 and are jointly funded by Renfrewshire and East Renfrewshire Councils and provide our services throughout both areas. We are managed by Bridgewater Housing Association Ltd and based in their offices in Erskine.

The Small Repairs Service does not do: Gardening, Painting or decorating, Boiler repairs or servicing, Domestic appliance repairs, Repairs that we estimate will take longer than 2 hours
Classification(s):
Info last updated:
02/10/2017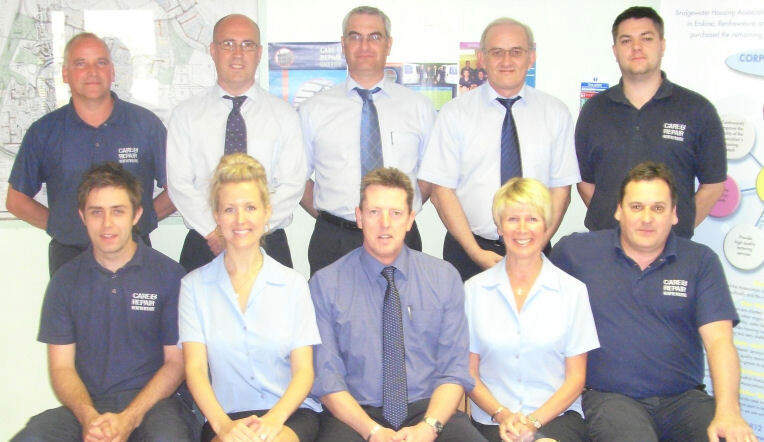 Provider
1st Floor, Bridgewater Shopping Centre, Erskine, PA8 7AA