Feet-Care.Com: Home services
1 - 1 of 1 Home services, provided by Feet-Care.Com.

Feet-Care.Com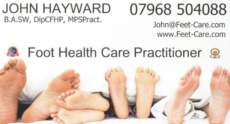 Foot Health Care Practitioner
Foot Health Treatments – in the comfort of your own home.Providing Monday to Saturday coverage. We also offer evening appointments to suit your life style.Home visits to cover a wide range of common foot health pro...
Contact:
Foot Health Care - Feet Health Care, , 53 Ely Road, Llandaff, Cardiff, South Glamorgan, CF5 2JF
.
back to directory of home care service providers in the UK.