Notaro Care Homes Ltd: Home services
1 - 1 of 1 Home services, provided by Notaro Care Homes Ltd.

Notaro Care Homes Ltd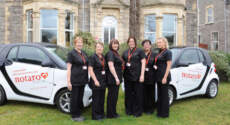 Notaro Homecare
Personal care, which includes assistance with washing and dressing, toileting, taking of medicines, preparation and assistance wit meals, domestic duties, ehich include cleaning, washing, ironing, dusting, vacuum cleanin...
Contact:
Notaro Homecare, , Top Floor Office, 25-31 Boulevard, Weston-Super-Mare, Avon, BS23 1XN
.
back to directory of home care service providers in the UK.