Notaro Homecare
What does it do?
Personal care, which includes assistance with washing and dressing, toileting, taking of medicines, preparation and assistance wit meals, domestic duties, ehich include cleaning, washing, ironing, dusting, vacuum cleaning and any other light duties requiress, day sitting/companionship, night care-waking or sleep-in, shopping, live in care, holidays, day trips, dog walking, hairdressing, chiroody, support work, assistance to appointments and gardening and small property maintenance may be available by seperate negotiation subject to availability.
Services are provided by carers making visits at agreed times to meet your needs. Visits can vary in length from half and hour, three quarters of an hour to one or more hours. One or more visits can be made during the day on one day or up to seven days per week, depending on your needs.
Who it is for?
Available to people from 18 years of age, without discrimination, who wish or need to have personal care and/or domestic help provided in their own homes. We are registered with the Care Quality Commission to provide a service to the following groups; Older people, people with Dementia, People with mental health problems, including addiction, People with learning disabilities, people with terminal illness, people with sensory loss including those with duel sensory impairment, people who are recovering from illness, people with physical disabilities and people living with the effects of substance misuse.
Where it is available?
Local service (Mendip, South Somerset, Taunton Deane, West Somerset, Bath & North East Somerset, Bristol, North Somerset, Sedgemoor).
What it costs:
Basic rate

Monday to Friday - 0700 till 22.30
£9.00 per ½ hour visit
£12.75 per ¾ hour visit
£16.50 per 1 hour

Saturday to Sunday - 0700 till 22.30
£12.20 per ½ hour visit
£15.75 per ¾ hour visit
£18.50 per 1 hour visit

Night Sitting

Monday to Thursday - 22.30 till 0700
£140.00 (Fixed Rate).

Friday to Sunday - 22.30 till 0700
£155.00 (Fixed Rate).

Night Sleeping

Monday to Thursday - 22.30 till 0700
£80.00 (Fixed Rate).

Friday to Sunday - 22.30 till 0700
£95.00 (Fixed Rate).

Live in care

Fees range from £800 per week. This is discussed at the initial assessment.
Fees are charged at double time on all bank holidays
An emergency call out charge is £35.00
Mileage charges to be discussed at assessment.

What's included in with the fees?
The fees include all services listed on pages two and three of the services user guide.
The fees do not include a mileage charge this is discussed at the initial assessment.

Where can I get advice on paying for care fees and benefits?
FirstStop offers free independent advice on a wide range of issues from benefit enquiries to care fee funding to housing.
You can contact FirstStop on freephone 0800 377 70 70 or visit their website http://www.firststopcareadvice.org.uk
How to access or apply for it:

Who do I contact/who is the registered manager?
• Any enquiries care needs assessment, service user
care plans and referrals.
• Anyone who wishes to arrange care services for
themselves or someone they represent.
Nicola Norville
Registered Manager
Notaro Homecare
Top Floor Office
25-31 Boulevard
Weston –super-Mare
North Somerset
BS23 1NX
Tel: 01934 422 800 or 01934 422 801
or visit the website address
www.notarohomecare.co.uk
What to expect then:

A brochure will be sent out to you at this stage if
required, this will state the rates we charge. Once
you have received our information and are happy
to proceed please call us so that we can arrange a
convenient time for our Manager Nicola Norville or
our co-ordinator Sarah Waite to visit you in your own
home to discuss your care package.
At this meeting you can ask for family or a friend to
be present. An assessment of needs will take place to
discuss what you require and how Notaro Homecare
can help. More details of the service we provide will
be discussed and a start date is usually agreed.
Additional information:

N Notaro Homes Ltd is proud to offer a professional
domiciliary care service which is 'all about you'.
We aim to provide our service users with a
comprehensive service of care of the highest
quality within their own homes. We will work
closely in partnership with our service users, their
representatives and other health professionals. We
strive to offer a fl exible, professional and effi cient
service which is tailored to meet the individual needs
of each person. each service user will be treated with
respect and we will remain sensitive to your abilities
and individual needs, whilst promoting dignity and
independence.

Notaro Homecare services are available 24 hours
a day for 365 days a year.
Our office hours are Monday to Friday 0900-1700,
after this time you will diverted to an out of hours
number, where you will be answered by a senior
member of our team.
Classification(s):
Info last updated:
02/04/2014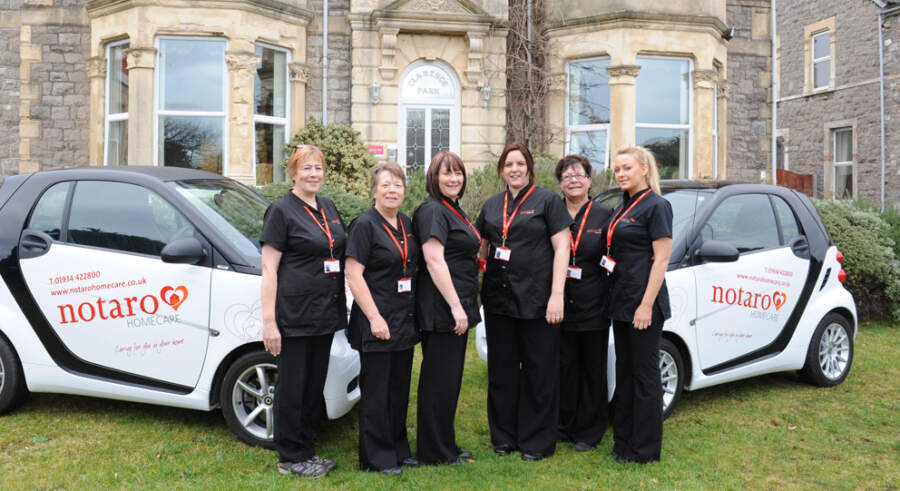 Provider
Top Floor Office, 25-31 Boulevard, Weston-Super-Mare, Avon, BS23 1XN