Liverpool: Home maintenance > Handyperson /odd jobs services
1 - 1 of 1 Handyperson /odd jobs services in Liverpool.
Riverside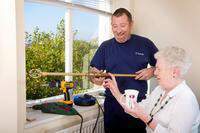 Improvement & repairs
We want to meet your needs and make your home as suitable as possible and need to consider a number of things before making a decision to go ahead, such as whether there is a recognised need for the adaptation. Sometime...
Contact:
Riverside Home Improvement Agency - Liverpool, 2 Estuary Boulevard, Estuary Commerce Park, Liverpool, L24 8RF
.
back to directory of Handyperson /odd jobs.