Telecare alarms
What does it do?
Telecare provides a non-intrusive lifeline alarm unit which offers you and your carers new ways to manage home
safety and help you to live more independently. A range of sensors can also be attached to the alarm unit, including:
Falls detectors
Smoke alarms
Bogus caller alarms
Flood detectors
Natural gas alarms
Pull cords
Chair and bed occupancy sensors
Property exit sensors
How does it work?
A special lifeline alarm unit is connected to your telephone line which enables you to call for assistance by pressing a button. You don't have to lift the telephone receiver or use the telephone keypad.
You can also activate the alarm by a pendant which can be worn around your neck or on a wrist band. The range of
the pendant means that it will activate in the garden as well as indoors.
What happens when I press the button?
Your alarm call will be answered by a highly trained operator. In an emergency, the alarm operator will contact your next of kin or the appropriate emergency service.
Who it is for?
People who need support to live independently.
Where it is available?
Local service (Knowsley).
What it costs:
All equipment is supplied free of charge and includes installation and maintenance. However, you will need
to pay a nominal monitoring charge.



If you would like further information, please give us a call on
0151 443 2600
How to access or apply for it:
How do I request an alarm?
If you would like to receive this service, please contact us on 0151 443 2600 or email
hcl.operators@westlancsdc.gov.uk
. You do not need to be in receipt of any formal health or social care to receive this service, although you must be a
Knowsley resident.
Classification(s):
Info last updated:
29/03/2012
Provider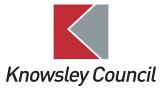 Westec House, 52 Derby Street, Ormskirk, Lancashire, L39 2DQ