Carers Emergency Support Service (CESS)
What does it do?
The Kirklees Carers Emergency Support Service aims to give carers peace of mind by making sure that short term, home-based care can be put in place in the event of an emergency.
The carer needs to complete a Carers Emergency Support Plan (CESP) which says what they would like to see happen in an emergency. This will give them time to consider what would happen if they were unable to continue in their caring role, for a short period of time.
The plan asks the carer to name people or organisations who could be contacted if an emergency happened. Kirklees Council could provide the any care or support needed - this could be a number of visits, to a full move-in 24 hour service.
Kirklees Carers Emergency Support Service aim to put the alternative care arrangements in place within two hours. Care or support can last for up to two days or three days during a bank holiday.

How does it work?

A Carers Emergency Card:
is a small plastic card that fits into your purse or wallet
carries a 24 hour telephone contact number which goes straight through to the Kirklees Carephones Helpline Service
holds a personal number which is linked to a database, which keeps details about you and the person you look after. Only authorised Kirklees staff will know who you are and who you look after.
If you are taken ill or have an accident, the Emergency Services will find the card and know you are a carer. Or you can call the 24 hour contact number and explain that you would like to use your plan.
By ringing the telephone number and quoting your personal number, Carephones Helpline staff will know there is an emergency. They will make sure the person you look after is told what has happened. They will be told by someone who is skilled in handling sensitive situations.
The Carephones Helpline staff will also make sure the person you look after gets the help and support they need until you can care for them again. This service replaces the Carers Emergency Card.
Who it is for?
The Carers Emergency Support Service is for anyone who looks after an adult who is ill, disabled, elderly or frail - and depends on them for their day to day needs.
Where it is available?
Local service (Kirklees).
What it costs:
There is no charge. This service is free to all carers providing care for someone living in Kirklees. If a friend or relative steps into your role we will pay them reasonable out of pocket expenses.
How to access or apply for it:
Download the Carers Emergency Support Leaflet (CESP), print it off, complete the registration form and place it in the post, no stamp needed.

Or call Gateway to care on: 01484 414 933 and explain that you would like to complete a Carers Emergency Support Plan. They will need to know your details and those of the person you care for.

The plan fits in with a carers assessment. These offer the opportunity for you to discuss your caring role and to think about what would make caring easier for you and help you to have a life of your own. If you would like further information about carers assessments, please read the leaflet Identifying carers needs. (PDF 108KB)
What to expect then:
How will the information I provide be kept?
Your plan will be reviewed annually. It is your responsibility to keep it updated as changes happen. Remember, the plan is only as effective as the information it holds. It needs to be kept up to date so that the right information is followed in an emergency.

What information will my plan need?
Your plan will ask for information about the social, emotional and medical needs of the person you care for. It is your responsibility to make sure that emergency contacts know where any medication is kept and the required dosage. We suggest that you keep an up to date list with the medication.
Useful Download(s):
Classification(s):
Info last updated:
20/03/2012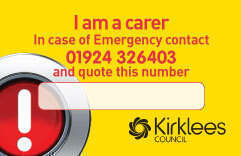 Provider

30 Market Street, Huddersfield, HD1 2EH