Home Support Service
What does it do?
Home support
The Home Support Service helps people to live at home, including those recovering after a stay in hospital and people who need help to avoid going into hospital.
Services are provided by home care workers who visit people in their own homes.
We also work with other home care agencies to meet people's home care needs.
Home support services are provided by Kirklees Council Adult Social Care Services - Home Support and other home support agencies that deliver services on our behalf. The standard of support should be the same whoever the provider is.
We provide services to people based on an professional assessment of their needs, by a qualified social worker, community care officer or health professional. This takes into account any personal preferences, cultural and religious beliefs as well as:-
physical disability
mental health (including dementia)
sensory impairment
learning disability
We also provide services to people who are recovering from surgery and who need help to get their skills, confidence and independence back.
In addition we provide services withg health professionals to support people who have end of life needs and wish to remain at home.
Services Available
Short term and urgent support teams provide:
Enabling - for up to 6 weeks, to assist and support you to achieve and maintain your maximum independence
Rapid response service - for up to 5 days, to prevent admission to hospital
Generic worker service (long term conditions) - for up to 2 weeks, in partnership with Health and Social Care colleagues, to provide you with a fast and efficient response with managing a long term condition and self care
Carers emergency scheme - for up to 48 or 72 hours on weekends and Bank Holidays, providing short term support to cover unpaid carers in times of emergency and personal crisis.
Continuing support teams
If you need more intense home support we will work with our colleagues in health for example district nurses and occupational therapists to make sure you get the best help possible. This service may be provided by the Kirklees Home Support Continuing Support Team or by one of the home support agencies that deliver services on our behalf.
Palliative/end of life care
- we aim to deliver a fast, flexible and responsive service to those with a progressive and life-limiting illness who wish to die at home.
Unstable and complex case support
- to provide you with support when you have high support needs and require constant changes in your support package.

Home care support providers search
Find a home care provider in your area and view information in order to make a choice that suits your needs: visit
http://www2.kirklees.gov.uk/careprovider/searchform.aspx
Who it is for?
We provide a variety of support services to a range of vulnerable people over the age of 18 years, living in Kirklees, who meet the criteria to get council-funded care.
Where it is available?
Local service (Kirklees).
What it costs:
The Home Support Service does carry a charge, which is based on your financial situation and the type and duration of service you are eligible for. You won't be asked to pay more than your disposable income even if the full charge for your service is higher.

A council representative will visit you or, if you wish, your relative or representative. They will help you complete a Personal Finance Statement and tell you the most you can pay for your service. They will send you a letter confirming the costs and details of the payment method.

More information
Contact Client Financial Affairs:
Tel: 01484 416795 / 01484 222056.
How to access or apply for it:
Additional information:
Planning your home support

In conjunction with other health and social care professionals, a domiciliary care co-ordinator will be identified to work with you. They will make sure that a specific and individual package of support is developed with you. This will be set out in writing and will detail the services you receive and when you receive them.
We will do a risk assessment of your home before we start your services. This is to make sure your home is safe for you and for our staff working with you. Your support plan and risk assessment will be regularly reviewed.
You may have a support worker who provides personal care for you. They may support you with some or all of the following:
washing, dressing and supervising you when you bathe
assisting you to get up and to go to bed
continence care
basic healthcare needs, e.g. medication prompts
meal preparation.
If you have a complex package of support you may also get support with:
shopping
light cleaning
support with dealing with finances,household bills, letters and correspondence.
We may also provide support to access local community facilities depending on your assessed need.Our staff are trained to support you if you have an assessed need for aids, adaptations and/or movement and handling equipment, so you can maximise your independence. We do not provide nursing care.
Useful Download(s):
Classification(s):
Info last updated:
20/03/2012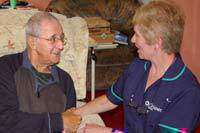 Provider

30 Market Street, Huddersfield, HD1 2EH