Day care centres
What does it do?
There are a number of day centres around the town that provide a range of services for those who are eligible to receive help.
Our day centres reflect Luton's cultural diversity. Staff at these centres speak a variety of languages and dialects and food is tailored to meet cultural and religious needs.

To attend a day care centre you must be referred by Luton Borough Council Health and Social Care team following an assessment. For further information on this, please contact:
Customer Service Centre:
Tel: 01582 547659 or 547660
Email: accessandassessment@luton.gov.uk
The details of the centres given below are for information only. They will not be able to advise you as to whether you are able to attend.
St. Monica's Day Centre (predominantly for people with living with dementia)
45 St. Ives Close
LU3 1PP
Tel: 01582 425 661
accessandassessment@luton.gov.uk
African Caribbean Centre
45 St. Ives Close
LU3 1PP
Tel: 01582 425 661
Milan Day Centre (specialist centre for people over 65 from South Asia; also for people with dementia)
81-83 Solway Road North
LU3 1TU
Tel: 01582 570 513
Stopsley Day Centre (for older persons)
Colwell Court, Colwell Rise, Luton LU2 9TW
Contact: Lynn O'Brien, Manager
01582 732 850 or 07712 301 578
lynn.obrien@luton.gov.uk
Chaul End Centre (a centre for all ages)
515 Dunstable Road
LU4 8QN
Tel: 01582 557 155
chaulend@lutonculture.com
Where it is available?
Local service (Luton).
How to access or apply for it:
Classification(s):
Info last updated:
05/01/2023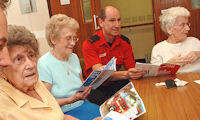 Provider

Town Hall, George Street, Luton, Bedfordshire, LU1 2BQ