Home Eye Testing / Domicillary Eye Testing Service
Free home eye testing service for the elderly & housebound
What does it do?
A1 Optician provide a 'Home Eye Testing' service for the elderly & housebound in the comfort of their own residence. There is no need to struggle to try and get to the high street optician. Simply call us and we organise a convenient time to pop over to see you.

When our friendly & highly qualified opticians visit your home, we

1) Review your health history (our thorougheye health checks on clients include: spectacle prescription, screening for Glaucoma, Cataract, Macular Degeneration, and systematic disorders such as Diabetes and blood pressure)

2) Carry out an eye test with the latest portable, diagnostic equipment

3) If required, make recommendations to improve the living area to accommodate poor eye sight i.e. review the size and position of the T.V, suggest a phone with larger numbers, advice on more appropriate reading lights etc.

4) If new frames are required, we will help you select a pair (as we are working with the NHS, are frames are at a minimal cost). we have a wide range available for both men and women.

5) If new frames have been ordered, we will come back to your home and fit the glasses and make sure that you are happy with them.






Who it is for?
The elderly and housebound
Where it is available?
Regional service (Bedfordshire, Berkshire, Buckinghamshire, Hertfordshire).
What it costs:
It is a FREE service for the elderly and housebound. If frames are required, they can be chosen at a minimal cost of approximately £40.

The eye test and the frame fitting service is completely FREE of charge.



How to access or apply for it:
Simply call 0800 023 496 or email:
info@a1optician.co.uk
to chat to us and arrange for a Home Visit.
You can check to see if you or a member of your family is eligible for the service:
Aged 60 or over
Registered blind or partially sighted
Diagnosed with diabetes or glaucoma
Considered to be at risk of glaucoma, as advised by an optician
Aged 40 or over and your mother, father, brother, sister, son or daughter has been diagnosed with glaucoma
Receiving benefit (Income Support, Income-based Jobseeker's Allowance, Income-related Employment and Support Allowance or Pension Credit Guarantee Credit)entitled to, or named on, a valid NHS tax credit exemption certificate
On a low income and named on a valid HC2 (full help) or HC3 (partial help) certificate
Eligible for an NHS Complex Lens Voucher (our optician will advise on the entitlement)
What to expect then:
After calling us, we will organise a convenient time to come and visit you at your home. Our visit normally lasts about an hour, during which time you can ensure the best level of care and service.
Additional information:
A1 Optician have been commissioned by the NHS to provide a Home Eye Testing service to the Elderly and Housebound FREE of charge across Hertfordshire, Bedfordshire, Buckinghamshire & Berkshire.


Unfortunately not many people know that a home eye testing service exists, and so very few people are taking advantage of it.

A1 Optician are currently trying to raise awareness of the service so that more elderly and housebound people know that they have access to it. A simple eye test can enhance someone's life and help them remain independent in their own home. From helping to prevent falls, to being able to watch T.V and read again and ensuring that the correct medicine is being taken.

Eye sight is key to helping someone live independently. A regular eye check can make the world of difference.


Useful Download(s):
Classification(s):
Info last updated:
12/01/2016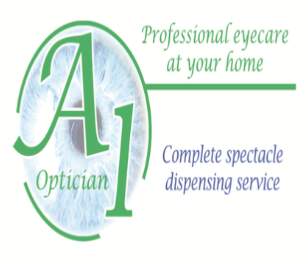 Provider

Hemel Hempstead, Hertfordshire