Stars Kitchen: Home services
1 - 1 of 1 Home services, provided by Stars Kitchen.

Stars Kitchen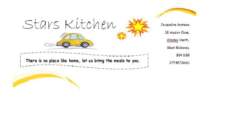 Stars Kitchen
Stars kitchen delivers hot meals to customers in their homes during the lunch time period Monday— Friday. A meal for Saturday can be delivered on a Friday; as can a chilled microwavable meal for Sunday for those wh...
Contact:
Meals on Wheels, , Mission Close, Cradley Heath, West Midlands
.
back to directory of home care service providers in the UK.