Elders Voice: Home services
1 - 2 of 2 Home services, provided by Elders Voice.

Elders Voice


Accident Prevention Service
Small practical electrical, plumbing or carpentry tasks that can make a home much safer in just an afternoon. The added reassurance of a safety alarm, front door peephole, carpets tacked down and rails on the stairs or b...
Contact:
Elders Voice, , 181 Mortimer Road, London, NW10 5TN
.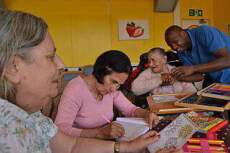 Day Centre for Older People
The Elders Voice Day Centres run four days a week – on Mondays in Kingsbury and on Tuesdays, Wednesdays and Thursdays in Kensal Green. Elders Voice provides an exceptional service and puts the well-being...
Contact:
Day Centre, , 181 Mortimer Road, Kensal Green, LONDON, LONDON, NW10 5TN
.
back to directory of home care service providers in the UK.