Shrewsbury and Atcham: Independent living > Foot/Nail services services
1 - 1 of 1 Foot/Nail services services in Shrewsbury and Atcham.
Shropshire Footcare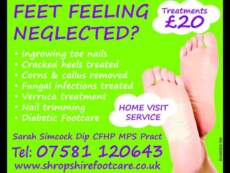 Foot Care
Foot health practice is the modern method to treat hard skin, corns, verruca, ingrown toenails, fungal nails as well as a host of other problems.
Contact:
Shropshire Footcare, St James Road, Shrewsbury, Shropshire, SY2 5YJ
.
back to directory of Foot/Nail services.