Brentwood: Independent living > Foot/Nail services services
1 - 2 of 2 Foot/Nail services services in Brentwood.
Barefoot Wellness
Foot Care
Toenail trimming / thinning, fungal nails, in growing toe nails, hard skin removal / management, corns, verrucas
Contact:
Mobile footcare, 134 Speedwell Road, colchester, Colchester, Essex, CO28dDW
.
Billericay Foot Health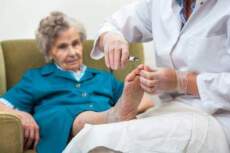 Toe Nail Cutting and Foot Care
Toe nail cutting for those unable to carry out themselves, removal of painful corns and callus (hard skin) build up, checking vascular and nervous supply to feet and referring on if necessary. Regular care of feet ...
Contact:
Sole Trader, 33 Brookside, Billericay, Essex, CM11 1DT
.
back to directory of Foot/Nail services.