Berryhill Village
Arbourfield Drive, Stoke-on-Trent, Staffordshire, ST2 9RJ
Arbourfield Drive, Stoke-on-Trent, Staffordshire, ST2 9RJ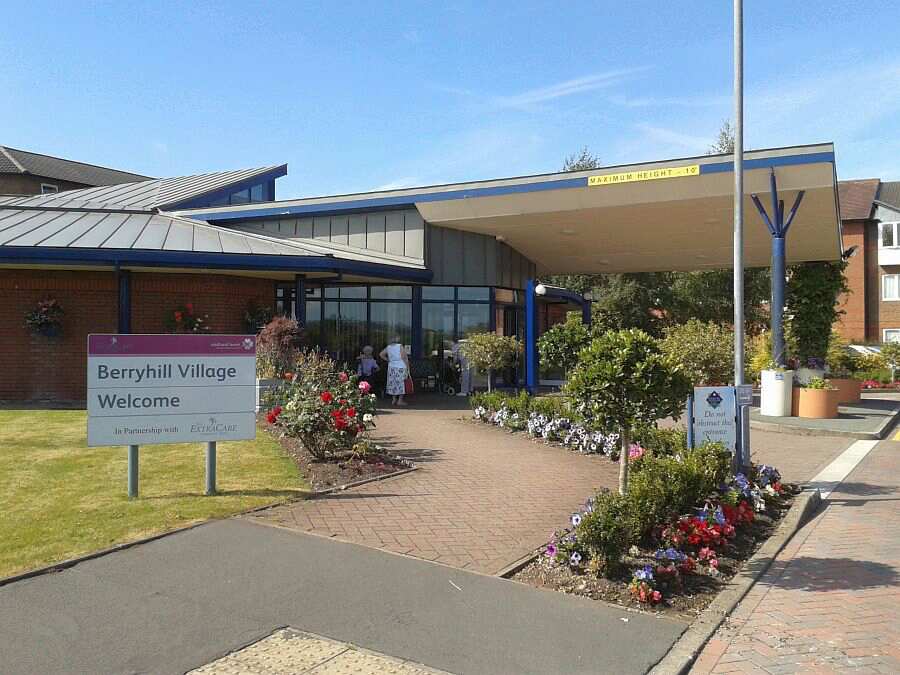 Click to enlarge or scroll
Manager's Description
"Berryhill incorporates a shop, gym, hair salon, computer room, library, craft room, licensed bar, café bar, village hall, and restaurant - all set in it's own grounds. Visitors to Berryhill comment o..." Show more
"Berryhill incorporates a shop, gym, hair salon, computer room, library, craft room, licensed bar, café bar, village hall, and restaurant - all set in it's own grounds. Visitors to Berryhill comment on the busy, friendly atmosphere where there is lots going on every day." Show less
Main Facts
Extra care housing
148 flats. Built in 1998. Sizes 1 bedroom, 2 bedroom.
Extra Care scheme with on-site care staff (24 hours / 7 days), Non-resident management staff (24 hours, 7 days) and Careline alarm service
Lift, Lounge, Dining room, Laundry, Guest facilities, Garden, Community centre, Hobby room, Activities room, Cafe, Shop, Hairdressing salon, Bar/pub, Library, Assisted bathing facility
Whole site accessible by wheelchair. Access to site easy, but less so for less mobile people. Distances: bus stop 2 yards; shop 100 yards; post office 100 yards; town centre 2.5 mile(s); GP 1 mile(s).
Regular social activities include: various - there is a full programme of activities available on request, organised by Village Activity Facilitator and Activitiy support workers. Meal(s) available. New residents accepted from 55 years of age. Both cats & dogs generally accepted, but not to be replaced (Pets policy in place).
Tenure(s): Rent (social landlord)
Care provider: Key 2 Care Limited
Residents' views
A number of residents have taken part in the
EAC National Housing for Older People Awards
, or used the
EAC Residents Consultation Service (RCS)
; they have given
top marks
to this scheme for:
Activities and outings
Community spirit
Convenience of the location
Lifestyle
Link with community at large
Meals
Number / size of facilities
Overall ratings
Quality of the building and facilities
Quality of the garden
Quality of the individual apartments
Staff role and interaction
Comments made in nominations for the EAC National Housing for Older People Awards

"I came here with an ill husband. He had the back up when I couldn't do it. He died 2 years ago. I then decided to go downstairs and make this place ho..." Show more

"I came here with an ill husband. He had the back up when I couldn't do it. He died 2 years ago. I then decided to go downstairs and make this place home. The residents are good and I smile a lot. Thank you." Show less

Made by a resident in 2017

"Berryhill village is very comfortable, well decorated and secure, with very caring and friendly staff. There are lots of activities– exercises, and ..." Show more

"Berryhill village is very comfortable, well decorated and secure, with very caring and friendly staff. There are lots of activities– exercises, and also good entertainment. I really enjoy living here– it has really changed my life." Show less

Made by a resident in 2017

"I feel safe and looked after. There is plenty of company."
Made by a resident in 2017


"It is a good place to live."
Made by a resident in 2017


"I have been living at Berryhill for 18 years. It is safe and I am content. There is peace of mind for my family because of the way the village is run...." Show more

"I have been living at Berryhill for 18 years. It is safe and I am content. There is peace of mind for my family because of the way the village is run. All staff are nice to know; helpful and kind. I love my flat." Show less

Made by a resident in 2017

"The village is great as you feel insecure and it's independent living. You have all the facilities all under one roof if you want to join in with them..." Show more

"The village is great as you feel insecure and it's independent living. You have all the facilities all under one roof if you want to join in with them. They are all here for your enjoyment." Show less

Made by a resident in 2017

"Plenty to do. Many people to talk to. Most of all you are very safe."
Made by a resident in 2017


"Best place we ever lived."
Made by a resident in 2017


"Friendly people and excellent care. All staff go out of their way to help."
Made by a resident in 2017


"Very good atmosphere on the whole which I think depends on one's own attitude to other people. Show a friendly attitude and it will be reciprocated."
Made by a resident in 2017


"Attention to detail."
Made by a resident in 2017


"Safe, warm, clean. No clutter. Pleasant staff, who are very approachable."
Made by a resident in 2017


"Berryhill is a lovely place to live. We are really well looked after. The staff and carers and all who are connected to it are great. We are safe and ..." Show more

"Berryhill is a lovely place to live. We are really well looked after. The staff and carers and all who are connected to it are great. We are safe and secure and very lucky to be able to settle here in our old age." Show less

Made by a resident in 2017

"I have lived in the village for nearly 19 years and have loved every minute of it. I like the company of other people and being safe, and knowing I'm ..." Show more

"I have lived in the village for nearly 19 years and have loved every minute of it. I like the company of other people and being safe, and knowing I'm not alone. There's always a member of staff there for you if you're feeling ill, which is a bonus." Show less

Made by a resident in 2017

"The family atmosphere is excellent. Staff relationship is good in all departments. One big, lovely, friendly place to live."
Made by a resident in 2017


"It is secure here. I had break-ins at my previous house. I don't have to worry about maintenance of the property. I like to know that there are people..." Show more

"It is secure here. I had break-ins at my previous house. I don't have to worry about maintenance of the property. I like to know that there are people 24/7." Show less

Made by a resident in 2017

"I have been here four years and I don't have any faults with it. I enjoy keep fit and well-being classes."
Made by a resident in 2017


"I was on my own when my husband passed away. In here I made many friends and came out of myself. Plenty to do."
Made by a resident in 2017


"I have lived here 19 years and have loved every minute. I love it because I am never lonely; so many things to do. If you do get lonely it is because ..." Show more

"I have lived here 19 years and have loved every minute. I love it because I am never lonely; so many things to do. If you do get lonely it is because of your own choosing." Show less

Made by a resident in 2017

"Feeling safe and not lonely. Having something to do–somewhere to go."
Made by a resident in 2017


"We do you like it."
Made by a resident in 2017


"I am happy and comfortable. The residents are nice. Staff are good and helpful."
Made by a resident in 2017


"The security, the friendliness, And things to do. Art, sewing, choir, exercise."
Made by a resident in 2017


"You are safe and are not lonely. I have been living here for 17 years."
Made by a resident in 2017


"I like my independence but I know that I have wonderful carers who are very good at their jobs. I want for nothing and my family know I am safe and am..." Show more

"I like my independence but I know that I have wonderful carers who are very good at their jobs. I want for nothing and my family know I am safe and am being looked after very well." Show less

Made by a resident in 2017

"An excellent place to be in. Very, very friendly. Plus all the things to do. I came here when I was 18 and never looked back."
Made by a resident in 2017


"I have been living here 19 years main and I love it. I am very happy. The staff are very good and I have lovely neighbours and I feel safe."
Made by a resident in 2017


"I came to live here because my husband lives in a home nearby."
Made by a resident in 2017


"friendly and welcoming staff and residents. It feels like a community"
Made by a staff member in 2017

National Housing for Older People Awards
Entertainers
These acts have recently performed here:
Entertainers
These acts have recently performed here: