Home from Hospital Service
Home from Hospital Service for older people in Wirrral
What does it do?
The Home from Hospital Service provides an enablement service designed to help with client's rehabilitation after a stay in hospital.
Great efforts are made to promote the service by working closely with the Hospital Discharge Team, Nurses, Occupational Therapists, Physiotherapists, GP's and Social Workers.
Our research on client's feedback suggests that we provide an important, useful, effective and appreciated service.
Upon receiving a referral, whether it's an individual themselves, family member, hospital staff or another care service, each and every individual is visited for an assessment to help the person identify their needs and requirements to aid their recovery once they have returned home.
This service provides short term low level support to anyone over 16 years of age, leaving hospital and living on the Wirral.
The Home from Hospital Service encourages people to regain their independence and successful rehabilitation on returning home by providing social and practical support such as-
Shopping
Collecting Pension/ Paying Bills
Collection of prescriptions
Help with Correspondence that may have built up
Light Housework
Preparing Light Meals
Help you find out about local resources and services which may benefit you in the future
Signposting to other Age UK Wirral services and activities
Who it is for?
The Home from Hospital Service supports people who are about to be discharged from hospital back into their own homes, who require some form of support to help them settle back in.
Where it is available?
Local service (Wirral).
How to access or apply for it:
Contact Us
Home from Hospital team
Age UK Wirral
Devonshire Resource Centre
141 Park Road North
Birkenhead
CH41 0DD
Email- homefromhospital@ageukwirral.org.uk
Phone – 0151 488 7802 or 0151 653 4404
Additional information:
What we can't do.
We can't provide personal care, but can arrange for someone who can.
We can't act as a substitute for statutory (Council or Health) Services but we can arrange for them to help.
Useful Download(s):
Classification(s):
Info last updated:
25/04/2016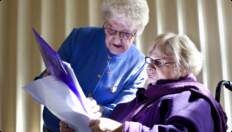 Provider

Devonshire Resource Centre, 141 Park Road North, Birkenhead, Merseyside, CH41 0DD