North Wales Advice and Advocacy Association
Advocacy service for people in North Wales
What does it do?
What we do;
Our advocates work with people facing disadvantage by pleading their cause. We do this by working with the person or on their behalf to secure the rights to which they are entitled and to help them obtain the services they require.
What we believe;
That every person has a role to play in society, that they have rights and incumbent responsibilities and that they should be supported to achieve their goals.
An independent advocate will work for, and represent the person in a way that works for the person. An independent advocate will not be an employee of, or answerable to other services.
Advocates work to ensure that a person's rights are expressed and respected and supports people to enable them to voice their opinions, develop their own skills in self-advocacy and improve the quality of their own lives.
People with disabilities have the right to be respected as individuals, have the right to a normal pattern of life and should be afforded the necessary assistance from their communities and from professional services to meet those ends.
Who it is for?
People facing disadvantage through disability, illness, age or social exclusion, who live, in particular but not exclusively, in North Wales."
Where it is available?
Regional service (Flintshire, Gwynedd, Wrexham, Anglesey, Conwy, Denbighshire).
How to access or apply for it:
14a Ash Court
Park Menai
Bangor
LL57 4DF
Ffôn / Tel: 01248 670852

Or go to: http://www.nwaaa.co.uk/index.php/contact-us/
Classification(s):
Info last updated:
16/12/2013
Provider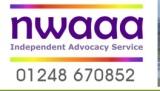 Unit 14a Ass Court, Parc Menai, Bangor, Gwynedd, LL57 4DF