Macc Angel's Complete Care At Home Ltd
dependable home care, cleaning,ironing, shopping and supported service
What does it do?
We will arrange a package that suits your needs this could include:
Personal Care.
Medication Management.
Shopping either us or supporting you to go.
Cleaning small areas or full house.
Hoarding Problems.
Support with paperwork and form filling.
Companionship
Ironing
Laundry
Meal preparation.
pop in Services for welfare checks.
supported escorts to appointments etc.
support with pets
small pet feeding in an emergency (ie hospital admissions)
social interaction support.
Who it is for?
Service are open to everyone who feels they need home help services including:
The Elderly,
Disabled
Mental Illness Sufferers,
Young People.
Where it is available?
Local service serving within 10km of SK118RJ.
What it costs:
Personal Care and Medication Management £13.50 per Hour
Cleaning costs are from £11.50 per hour
Escorted trips from £13.50 per hour
ironing Services and Laundry from £13.50 per hour
Support sessions from £15.00 per hour
emergency pet feeding from £12.00 per hour
How to access or apply for it:
Contact Flo the Director who will be happy to come and visit you to talk about services you are interested in and to quote you for the services which you would like. you can also visit our website at
http://www.macc-angels.org.uk
to find out the services you are interested in and some back ground about the company and about our formation. The website also has a contact form available to contacts us.
This will be followed up with the quotation given being sent 7 days later in writing if you need more time to think about it.
What to expect then:
Once an initial visit to talk about our services and what you services you would like and length of time for services and costs for that, we will leave you to think about it for a couple of days and re contact you to see if it is what you would like to take up. we will then come out and fill out the paperwork and set appointments days and times for your services to be provided.
Additional information:
We believe at Macc Angel's that no one should have to receive care or services from anyone that the service user has not met before, we believe that services provided by providers who do not introduce new staff to you are putting our elderly, vulnerable loved ones at risk. It is also putting them at risk by not keeping to planned times. By having people turning up here there and everywhere and different unknown faces is luring our vulnerable loved ones into a false sense of security and putting them in a situation that if someone should turn up at their door they don't know they would be let in to their house with the thought of them being there to deliver care or other services when in actual fact they may be there for totally other reasons thus Macc Angels will make a promise that we will turn up at the times we arrange and that any new staff will be formally introduced to the service user by a friendly known face of the company. This was we can help to protect our customers from criminals that turn up at unsuspecting doors.
Info last updated:
25/10/2013
Provider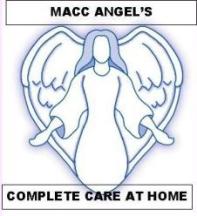 16 Earlsway, Macclesfield, Cheshire, SK11 8RJ