First Contact Rutland
First Contact scheme to make referrals in single process
What does it do?
The First Contact Scheme is an interactive system that allows client facing practitioners to make multi-agency referrals through a single recognised process.

This is an innovative scheme providing a holistic service to people working with vulnerable adults; enabling them to access advice, information and support through one single contact and to provide an integrated and seamless service.

The scheme has been funded by The Big Lottery until the end of November 2014 and is administered by Rutland Community Spirit.
The aim of the project is:
• To enable vulnerable people living in Rutland to access low level preventative services to help them remain safe and
independent in their own homes.

• To improve access to advice information and services.

• To provide a streamlined service whereby talking to just one person, a vulnerable person can access services which they may not have been aware of or did not know how to contact.

• To reach across different communities including rural areas to provide an equality of service to all.

• To reduce the risk of accidents within the home.

• To facilitate partnership working within the statutory and voluntary sector and to avoid duplication of services, time and effort.
Who it is for?
This is an innovative scheme providing a holistic service to people working with vulnerable adults.
Where it is available?
Local service (Rutland).
What it costs:
The service is free of charge
How to access or apply for it:
For further information on Rutland First Contact, the Community Spirit team can be contacted on 01572 720282.
What to expect then:
As project administrators, the Rutland Community Spirit team are available to support clients through the referral process if necessary. Equally, if an organisation who is not part of the scheme wishes to access the services of First Contact, Rutland Community Spirit can generate referrals on their behalf. Work in this area is already underway with Rutland's primary housing provider SPIRE Homes. It is anticipated that this facility will be extended to GPs and community nurses.
Additional information:
First Contact Rutland Partners include
- Leics & Rutland Fire & Rescue Service
- Police
- Rutland Adult Social Services
- PCT Falls Programme
- CAB
- Age UK
- Rutland Home Improvement Agency
- Energy Action
- Carers Support
- Voluntary Action Rutland Car Scheme
- Trading Standards
- Harborough Lifeline
- Spire Homes (wardens and housing officers)
Classification(s):
Info last updated:
05/02/2014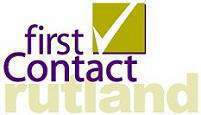 Provider
Community Spirit Team
Community House, 133 Loughborough Road, Leicester, LE4 5LQ