Blue Badge Scheme
What does it do?
The Scheme allows the badge holder to take advantage of disabled motorists parking privileges whenever they are travelling, as a driver or passenger, anywhere within the European Union. The concessions are subject to certain rules and restrictions, and these will be explained when the badge is issued.
Who it is for?
Anyone who meets one of the following criteria is eligible for the automatic issue of a Blue Badge:
Receives the higher rate mobility component of Disability Living Allowance.
Receives a War Pensioner's Mobility Supplement.
Is a registered blind person under the National Assistance Act 1948.
Those who do not meet one of the criterion above, but meet one of the following criterion may be eligible for a discretionary issue of a Blue Badge.
Has a severe disability in both upper limbs, regularly drives a motor vehicle, but has difficulty operating parking meters.
Has a permanent and substantial disability which means you are unable to walk or have very considerable difficulty in walking.
Where it is available?
Local service (Stratford-on-Avon, Warwick, North Warwickshire, Nuneaton & Bedworth, Rugby).
What it costs:
There is an administration fee of £10 for successful applications.
How to access or apply for it:
Telephone - 01926 410410, or by minicom - 01926 412277. Opening hours are 8a.m. to 8p.m, Monday to Friday; and 9a.m. to 4p.m.on Saturday
email to
bluebadges@warwickshire.gov.uk
Everyone who wishes to apply for a Blue Badge must complete the Application Form and return it with the appropriate documents to the Customer Service Centre at Shire Hall, Warwick, CV34 4TH
Automatic Issue or Discretionary issue - If you meet one of the criteria as specified in question two you must supply:
Photocopies of the evidence that you are receiving the benefit (if applicable).
Two recently taken passport-style/size photographs of yourself. Please make sure that you have have signed the back of both photographs.
Cheque for £10.00 made payable to Warwickshire County Council.
Additional information:
The Blue Badge is issued to a person, not a vehicle. This means the badge holder may use the concessions whenever he/she travels as a driver or passenger, regardless of who owns the vehicle.

Only the person to whom the badge has been issued may use the concessions, that is to say, the badge holder must be in the vehicle when the concession is being claimed.





Note:
The only time that someone else may use the badge, without the holder being in the vehicle, is if they are dropping off or picking up the badge holder. The badge must be removed from display as soon as the vehicle leaves the area which is accessible only to vehicles displaying the badge.
Classification(s):
Info last updated:
17/03/2014
Provider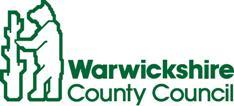 Customer Service Centre, Warwickshire County Council, Shire Hall, Warwick, CV34 4TH