Intake Reablement Team
The Intake Reablement Team is a short-term home care team.
What does it do?
During an 6-week period, the Home Care Workers, under the direction of the Care Team Leader, will work intensively with citizens to enable them to regain skills and achieve maximum independence at home. They will closely monitor the progress being made by each citizen and will adjust the level of care provided, as their independence increases and their circumstances change.

The Home Care Workers record this progress daily in the citizen's Care Plan, and also attend weekly team meetings to discuss the care of all citizens. It is envisaged that during this 6-week period with the Intake Reablement Team, the care needs of citizens will decrease, and in many cases they will regain total independence. If the care provision is required to continue, our staff will hand over the Care Plan to an Independent Sector Home Care Provider.

The Intake Reablement Team, in partnership with citizens and their carers, will:
provide a responsive and effective Home Care service, to meet the assessed needs of citizens and to enable them to live in their own homes and communities, as independently as possible
involve citizens fully in the development of their own Care Plan
centre our service on the citizen and focus on enhancing their quality of life
strive to achieve this enhanced quality of life through positive, professional practice between our staff and their citizens
fully involve carers in the care planning process, where appropriate.
Who it is for?
For people who need help to regain skills which they may have lost due to hospital admission or illness.
Where it is available?
Local service (Nottingham).
What it costs:
Please contact the organsiation for more details
How to access or apply for it:
To contact the Intake Reablement Team please call 0115 8838480.
Additional information:
What our service users and their carers say about the Intake Reablement service:

'Words cannot tell how excellent the ladies have been - they will be sadly missed...all of them are worth their weight in gold.'
'All carers were lovely. Their attitude was excellent and they all seemed to enjoy the work. They were a pleasure to meet.'
'The care I received was first class. Kindness, politeness and companionship.'
'Excellent service - couldn't find fault. The girls were cheerful, friendly and helpful, it made my job much easier and they instilled confidence in my wife'.

What the Care Quality Commission says about the Intake Reablement Team:

"The quality rating for this agency is: Three star excellent service".and they were told by people using our service:
"They have been absolutely 'top notch', absolutely excellent. I couldn't have asked for anything nicer."
Useful Download(s):
Classification(s):
Info last updated:
16/10/2014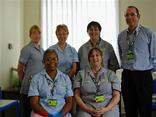 Provider

Mary Potter Centre, 76 Gregory Boulevard, Nottingham, Nottinghamshire, NG7 5JD