Day Care
What does it do?
What is day care?
We offer different types of day care for adults, depending on what you need.
Day care for people with dementia
We offer daytime care and activities for people with dementia. We can help you by
offering a stimulating environment for people with dementia
offering programmes of care and activities which are set up and designed around what each person needs
encouraging and helping people to be as independent as they can
provide transport if it is decided that this is needed
Day care for rehabilitation
We offer daytime care and activities for people who need help fo short periods of time so that they can become independentagain. It could be that someone has just come out of hospital and needs extra support for a while, or someone may have an alcohol problem and needs help to become independent again, we can help by
getting people back to being as independent as they can
take part in social, recreational, emotional and leisure opportunities
build up their confidence
improve their physical ability
Most rehabilitation programmes last for 6 weeks but sometimes they can be extended to last for 8 weeks.
Day care for people who need substantial care
We provide daytime care and activities for people who have complex needs or need a lot of care, for example someone may have physical disabilities, as well as mental health problems, we can provide a range of support
offering help with personal care
helping people to be as independent as possible
increasing the opportunities people get to socialise and meet others
providing transport, if it is decided it is needed.
Day care often gives people looking after someone with care needs, the chance to have a break and some time for themselves. It also gives the person receiving the care some time away from their home surroundings.
Who it is for?
for older people with dementia
for older ho need help for short periods of time
for people with complex needs
Where it is available?
Local service (Stoke-on-Trent).
How to access or apply for it:
You will need to call free phone 0800 561 0015 where you can speak to a trained contact centre advisor who will be able to help and advise you and start the assessment process off for you.
Classification(s):
Info last updated:
26/10/2011
Provider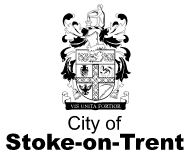 Civic Centre,, Glebe Street,, Stoke-on-Trent, T4 1RN