Imperial Wharf Resource Centre
What does it do?
Imperial Wharf Resource Centre aims to support older people to remain in their own homes. The centre provides a safe environment for service users to socialise, enjoy a nutritious meal and take part in a range of activities.
The centre offers day time respite for carers and is open seven days a week. Our staff are professionally trained to Level 3 NVQ in Social Care and are committed to providing high standards of care for all service users.


We offer a comprehensive programme of daily activities to meet the needs of our clients. The programme is devised through consultation with our clients and is reviewed every eight weeks.
Our activities include:
Agewell classes and therapeutic exercise groups
Outings to places of interest e.g. the seaside, public gardens, shows and restaurants
Arts and crafts
Sewing
Slideshows
Quizzes
Topical discussions
Reminiscence sessions
Reflexology
Nailcare
Hairdressing
We also work with group facilitators with the aim of our clients enhancing their key skills such as:
Communication
Confidence
Self advocacy
This is carried out through practical sessions such as cooking and horticulture.


Meals
The day centre provides a range of freshly prepared hot and cold meals each day on site and at a subsidised cost. Lunch options include:
Caribbean
Diabetic
Halal
Kosher
Traditional
Vegetarian
You are free to bring your own food if you choose.
Travel
Free transport to and from the day centre is available, but, if you prefer, you can make your own transport arrangements.
Who it is for?
for older people
Where it is available?
Local service (Hammersmith & Fulham).
How to access or apply for it:
For more information contact us at:
Imperial Wharf Resource Centre
Olive House,
185 Townmead Road,
London SW6 2JY
Imperial Wharf Resource Centre Olive House, 185 Townmead Road, London SW6 2JY
Tel: 020 7384 6950
Fax: 020 7384 6959
Email: daycentre@lbhf.gov.uk


to apply to the day centre contact: H&F Advice, 145 King Street, London W6
or call the services helpline for adults on 020 8753 5456
or minicom 020 8753 5089
What to expect then:
Before an application is made to the day centre, a social work assessment needs to be completed. This is to make sure that we provide the right support to the people who need it most. Once an application has been received a staff member of the day centre will contact you to arrange a home visit to discuss your needs and give you more information about the services offered at the day centre.
This person will become your keyworker if you proceed with your application. The keyworker will advocate on your behalf and develop a plan of care with you to meet your needs at the day centre.
This may involve liaising with your carer, social worker, family and other professionals such as doctors and district nurses. We will review your care plan with you.
Classification(s):
Info last updated:
06/06/2018
Provider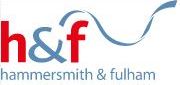 Town Hall, King Street, London, W6 9JU