Paines Brook Court Day centre
Dementia Day Centre in Havering
What does it do?
A friendly chat, a freshly cooked meal in good company and a host of stimulating activities can really light up a day.
Do you love meeting up for a chat? Being around other people, enjoying a good game or some gentle exercise? Pitting your wits in a quiz or watching a good film? Whether you prefer to pass the time on your own, or get involved in group activities, Paines Brook Court is a wonderful place to be.
Paines Brook Court caters for the needs of frailer adults and those with dementia. Our team offer support, engagement, one-to-one time and group activities. Everything we do is focused on enabling people to maintain their social and day-to-day living skills so they can continue to enjoy independence at home.
Take respite, with complete peace of mind
Do you look after someone who needs regular care? Could you do with some respite time for yourself, with the peace of mind that your loved one is in the safest of hands? Our professional, specialist team at Paines Brook Court consists of qualified support workers, all closely assisted by skilled volunteers. Everyone is trained to encourage social interaction and communication.
Things to do at Paines Brook Court
Paines Brook Court offers a fantastic opportunity to learn new skills and enjoy activities that are mentally and physically stimulating. A special focus group meets regularly to make sure these activities continue to inspire and enthuse everyone we welcome to the centre.
Arts & crafts
Board games
Puzzles & quizzes
Wii® games
Bingo
Large screen films
Internet access
Hairdressing & beauty
Interesting talks
Armchair exercise
Music therapy
Pool table
Sing-a-longs
Live entertainment
Themed events
Prefer to sit and read or have a quiet chat? Lots of our patrons do too, so you'll be in good company. And if you like to spend time outdoors, you'll look forward to our annual summer fete and regular garden parties during the warmer months.
Food, drink and refreshments at Paines Brook Court
Enjoy a freshly cooked lunch with us at a reasonable price. Vegetarian, diabetic and other dietary options are all offered. Go for a main meal or a light bite, indulge in a dessert or take some sandwiches home with you. Tea, coffee, toast and biscuits are also served throughout the day.
Getting to Paines Brook Court
Need some help getting to Paines Brook Court? We have wheelchair accessible mini-buses at the ready. And if you are looking for a little extra help, ask us about transport with a support worker. They'll make sure the house is secure on leaving, and will see you safely in when you get home.
Fun and companionship, in a safe environment
Paines Brook Court is open Monday to Saturday, 10am to 4pm. On Sundays we run a special Sunday dementia day service from 10am to 3pm. Ask for our separate leaflet or visit our website for full details.
Paines Brook Court is specially geared towards frailer adults or those with dementia. If you are looking for a place where you can indulge your love of an active lifestyle, ask Tapestry about HOPWA House.
See you at Paines Brook Court
You can find out more about how to join us at Paines Brook Court by giving us a call or popping in to see us. You can also drop us a line – there are plenty of ways to get in touch. And don't forget to check the Tapestry website for information on all the latest special events at Paines Brook Court.
Who it is for?
Paines Brook Court caters for the needs of frailer adults and those with dementia.
Where it is available?
Local service (Havering).
What it costs:
Please contact the organisation for more information
How to access or apply for it:
See contact details above
Address:

Paines Brook Court,
Paines Brook Way,
Harold Hill.
Tel: 01708 375433
Classification(s):
Info last updated:
17/08/2015
Provider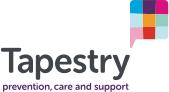 Hopwa House Inskip Drive, Hornchurch, Essex, RM11 3UR