St. Augustine's Day Respite Care Centre
What does it do?
Homelink provides a happy and vibrant environment where people can enjoy each others' company supported by trained staff and volunteers. The Centre enables carers to take a well earned day´s respite.
ACTIVITY AND ENTERTAINMENT

Refreshments on arrival
A delicious home cooked meal (Provision is made for special dietary needs)
Exercise
Music recitals
Creative activities
Participation in productions
Exercise and mental stimulation
An internet café is planned
RELAXATION AND OTHER FACILITIES

As an additional service, Homelink is able to offer clients services such as:
Assisted showering
Hairdressing
Chiropody
Aromatherapy
Reflexology
Who it is for?
for older people who cannot manage on their own because of age, disability, physical and/or mental illness.
Where it is available?
Local service (Richmond upon Thames).
How to access or apply for it:
Homelink offers places to clients by referrals from the local GPs, district nurses and other health care professionals. We also are happy to accept referrals from family carers and friends.
If you know someone who you think would benefit from coming to Homelink for one day a week (which enables their carer to have a day's respite) please in the first instance, download a referral form at
http://www.homelinkdaycare.co.uk/apply.php
and return it to us.
There is always a waiting list which is on average six months long. Sometimes places become available more quickly, sometimes the wait is longer. But as soon as a place becomes available, one of our nurses will contact you to arrange a visit to the client's house to assess their needs prior to beginning at the Homelink centre.
Additional information:
Each person who attends Homelink has an individual care plan. A health monitoring programme is carried out for preventative care.
We aim to work seamlessly with external health care professionals.
TYPES OF MEDICAL PROBLEMS/DISABILITIES INCLUDE:
Neurological conditions including
- Parkinson's Disease
- C.V.A. (strokes)
- Multiple Sclerosis
Rheumatoid/Osteo Arthritis
Heart conditions/Angina
Diabetes
Sight/Hearing loss
Mental health problems
Terminal illness
PROVISION OF CARE INCLUDES:
Showering/personal care
Continence care/catheters/stomas
Wound/leg ulcer dressings/pressure area care
Blood pressure monitoring/blood sugar monitoring
Supervision of prescribed medicine
Chiropody
Reflexology
Aromatherapy
Health promotion
Social interaction
Psychological support
Mobility/Exercise programme
Nutritional needs
Classification(s):
Info last updated:
13/07/2011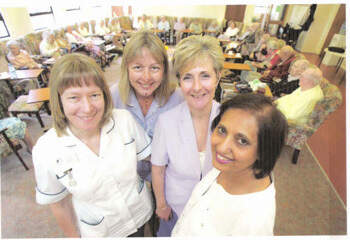 Provider

St. Augustine's Day Respite Care Centre, c/o St. Augustine's Vicarage, Hospital Bridge Road, Twickenham, TW2 6DE