Major equipment and adaptations
What does it do?
If you are having problems getting up and down stairs and generally moving around your home we may be able to help you. Before recommending a major adaptation we may recommend you undergo a period of Reablement to try to improve your independence in everyday life. If you are not eligible for Reablement we will consider a major adaptation in the first instance.
If, at the end of Reablement, you are still struggling with activities we will consider which pieces of major equipment can help you. It could be a stair lift or a hoist to help your carer move you around your home. It may be that an adaptation to your home, such as a ramp or level access shower, could enable you to remain living there independently. Another way to keep your independence is to move into sheltered or supported housing that has been specially designed to better suit your needs.
Who it is for?
Children and eligible adults who live in the borough of Wigan and who need help due to sight or hearing loss, a physical or learning disability, frailty or illness.
Where it is available?
Local service (Wigan).
What it costs:
This will depend on the equipment or adaptations required and whether you live in council property, your own home or rented accommodation. If you live in council property major adaptations are free of charge. If you live in your own home or in rented property you will need to apply for the Disabled Facilities Grant. The grant is limited to £30,000. Adults will need to pay anything over this amount as well as their assessed contributuion. We will apply for a Disabled Facilities Grant (DFG) on your behalf and this will include details of your finances. This means that the amount you pay towards the cost of any adaptation work will depend on your income and any savings you have, not on how much work you have done.
How to access or apply for it:
The Central Duty Team is the first point of contact for all adult referrals and general enquiries. You can contact them from 8.45 am to 8 pm Monday to Friday and 8.45 am to 1 pm on Saturdays on 01942 828777.
Classification(s):
Info last updated:
28/06/2011
Provider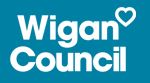 Ince Town Hall Annexe, Ince Green Lane, Ince, Wigan, Greater Manchester, WN3 4QX