Telecare
Providing a range of equipment allowing people remain safe at home
What does it do?
Telecare is intended for use by disabled or vulnerable people of all ages, as well as those with long term conditions.

Telecare can work in one of two ways: Linked Equipment which can generate an alert when there is a problem and help is required and Stand Alone Equipment such as easy to read clocks and calendars which can help with every day tasks.

The Telecare Service is for people who would like to feel safer, more protected and independent in their own home.

The installation of Telecare, both linked and stand alone, has proved to make a difference to people's lives, not only for those using the service but for their families who feel less anxious, especially in cases where their loved one may have a condition that prevents them from understanding the equipment themselves.
Who it is for?
To enable older people and others to remain living independently in their own homes for as long as possible.
Where it is available?
Local service (Nottingham).
What it costs:
Please contact the organisation for more information.
How to access or apply for it:
You can contact the Telecare Team at:
Telecare Office & Demonstration Flat, Flat 1 Kersall Court, Kersall Drive, Highbury Vale, Nottingham, NG6 9DT
Tel: 0115 876 3222
Email:
ATservice@nottinghamcityhomes.org.uk
Additional information:
Citizens who use our service include:
Older and vulnerable people with disabilities
Younger people with disabilities
Individuals who have been discharged from hospital who require additional support and assistance at home
Those caring for a child or young person with a disability
People at risk of domestic violence, racial harassment, repeat victimisation or distraction burglar.
As the Telecare Team is part of Social Care, you would need to meet some eligibility criteria in order to receive a service from us.
You must live within the Nottingham City Boundary
and
either be in receipt of services from Social Care or a Health Professional (does not include your GP) within Nottingham City
or
have a disability (this can be discussed when you contact us)
Useful Download(s):
Classification(s):
Info last updated:
06/02/2017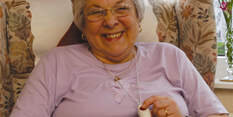 Provider

Flat 1 Kersall Court, Kersall Drive, Highbury Vale, Nottingham, Nottinghamshire, NG6 9DT