Independent Living Service
handyperson, help with gardening
What does it do?
We provide a grass cutting, tidying and pruning service.

The number of hours gardening you can have depends on the size of your garden and how often you would like the service. Some people have just an hour a month, others choose to pay for a weekly service.
Work is normally restricted to:
grass cutting
trimming and pruning overgrown shrubs
forking borders
trimming hedges which can be reached by the gardener standing on the ground
Very overgrown gardens may be dealt with by our Handyperson team before handing over to a gardener. This is a separate service which will be assessed and charged individually.

Clients need to be on the Milton Keynes Council waste scheme which supplies a green wheelie bin. Or you will need to have a compost heap or bin in the garden. We willl put garden waste in proper sacks if requested but cannot take waste away as the gardeners use their own cars.

We regret we are not able to spray weed-killers or pesticides, nor are we able to apply preservative to woodwork or erect or repair fences. We cannot undertake large garden clearances or tree work, nor can we do heavy digging, planting or landscaping. Our aim is to help as many older people as possible keep their gardens in a reasonably tidy condition.

Demand for gardening and DIY work is constantly high. We try to provide the help you need as soon as possible but sometimes there is a waiting list. Please ring us so we can help you keep your garden tidy and a pleasure to look at.
Who it is for?
Where it is available?
Local service (Milton Keynes).
What it costs:
We charge an hourly rate of £15, which covers the cost of the service.

There is a registration fee of £10, which is reduced to just £6 if there are only one or two subsequent gardener visits.
How to access or apply for it:
Contact us on 01908 243 864.
Classification(s):
Info last updated:
20/04/2021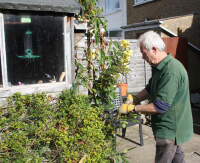 Provider

The Peartree Centre, 1 Chadds Lane, Peartree Bridge, Milton Keynes, MK6 3EB