Day services
Day Centres for older people in rural areas of Derbyshire
What does it do?
We offer:
A flexible day care service where you can come along relax meet new people and make friends in a warm, friendly and safe environment.
Benefits:
Reduced isolation and improved self-confidence, social skills, communication and motivation
Improved nutrition and monitoring of older people at risk of malnutrition
Reduced risk of elder abuse due to monitoring and support for carers
Increased activity levels leading to improved physical fitness, balance, co-ordination, personal care and physical control
Intellectual stimulation from activities and new experiences, trips and discussions reducing incidents of depression and improving outlook
Who it is for?
Our day care services offer the highest quality care and support to older people in a variety of settings in rural areas:
Bakewell and surrounding villages
Hulland Ward and area
Hope Valley
Where it is available?
Local service (Derbyshire Dales).
What it costs:
For details of current charges, or for private places, please contact Mary Ward, Daycare Service Manager, on 01629 813221
How to access or apply for it:
How do I find out more?
If you would like to find out more please contact:

Mary Ward
Bakewell Day Services
Orme Court
Granby Mews
Granby Road
Bakewell
DE45 1ES

Telephone: 01629 813 221
Day care sessions: Tuesday – Friday.

Nicola Mansell
Caroline Court Day Service
Marsh Avenue
Hope
Hope Valley
S33 6RX

Telephone: 01433 621 887
Day care sessions: Monday, Wednesday and Friday.

Andrea Eley
Hulland Ward Day Service
Hulland Ward Village Hall
Hulland Ward
Nr Ashbourne
Derbyshire
DE6 3EA
Telephone: 01335 372 811 (or contact Bakewell Day Centre)
Day care session: Thursdays.
Classification(s):
Info last updated:
21/10/2015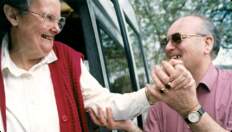 Provider

29a Market Place, Heanor, Derbyshire, DE75 7EG