Participation Groups
What does it do?
The participation groups are a satellite link of Halton OPEN which gives older people the opportunity to have their say in the services that are delivered in Halton. This allows more older people to be in a position to feed into the planning process, join in with social activity and there is a wider group of older people to consult with on local issues. The groups have a dual purpose as isolated older people have the opportunity to get involved, get out of their home, meet new people and become re-engaged with their community. Many arts and craft activities take place, speakers are invited in from other organisations.

Currently there are 5 groups meeting monthly:

Get up and Go Club, Priory View Community House, Windmill Hill: every second Tuesday of the month. 11.00am —1.00pm, tea, coffee, cake - £1.00.

Halton Lodge Friendship Group, Halton Lodge Community Centre, every third Thursday of the month, 1.00pm - 3.00pm, £2.50.

Victoria Court, Mottershead Road, Widnes - Art and Crafts session held monthly, every second Monday, 1.00pm - 3.00pm, £3.00.

Coffee morning - The Ferry Boat, Wetherspoons, Runcorn: last Thursday of each month, 11am - 12pm. Participants usually stay behind for lunch.

Chapelfields Community Group - meets every Monday (with Age Concern attending every third Monday), Chapelfield Community Centre, Wilsden Road, Widnes, 12.30 - 2.30pm
Who it is for?
for older people in Halton
Where it is available?
Local service (Halton).
How to access or apply for it:
Classification(s):
Info last updated:
16/01/2020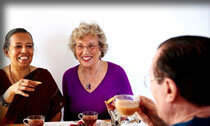 Provider

44 Church Street, Runcorn, WA7 1LR