Services for Older People
What does it do?
We aim to make a difference to people's lives by enabling them to:
Become more independent
Enjoy a better quality of life
Have better life chances, and
Be protected from harm.
Who it is for?
We offer a wide range of support and care services for older people and the people who look after them. What help you may
be able to receive is dependent on your particular situation.
It may be that you need help because you have a disability, are in poor health, have mental health needs or because you
are frail.
Unfortunately we can't help everyone, so we have to decide who is in most need. We have guidelines to help us do this. The
Government set these guidelines to make sure that everyone in the country has the same chance of getting help.
When you first contact us, we will ask some questions to find out what support you may need and if you qualify to have
an 'assessment'.
Where it is available?
Local service (Stoke-on-Trent).
What it costs:
Contact the organisation for more information.
How to access or apply for it:
Stoke-on-Trent City Council, Civic Centre, Glebe Street, Stoke-on-Trent ST4 1RN, UK. Telephone +44 01782 234567. Email
enquiries@stoke.gov.uk
.
Classification(s):
Info last updated:
02/07/2015
Provider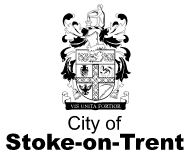 Civic Centre,, Glebe Street,, Stoke-on-Trent, T4 1RN