Homecare
What does it do?
The service provides practical assistance to enable people to live as independently as possible and to remain in their own home for as long as is reasonably possible. The service includes:
Personal care
Provision of meals
Help with shopping
Collection of Pension
Homecare in the East Riding is provided by a variety of independent providers who are accredited and contracted by the council.
Who it is for?
Services which can be provided for people who are no longer able to care for themselves and who meet the criteria following a community care assessment.

Homecare can be provided in a number of ways and your package will be tailored to meet your particular needs and situation.
Where it is available?
Local service (East Riding of Yorkshire, Kingston upon Hull).
What it costs:
Your contribution will depend on your financial circumstance, and the Council will assess the contribution you need to make. This will be fully explained to you before you agree to the services and advice will be given about any benefits that you may be entitled to.

Anyone can arrange a home care contract with a private provider. Social Services can only get involved, though, where your care requirements match our eligibility criteria.

We can make regular cash payments to some people to buy a community care services for them- selves, following an assessment by us. Disabled people have campaigned for a long time for direct payments because they could mean greater choice and flexibility in care arrangements for them, and a law has now been passed that allows this under certain circumstances.

Currently, the council is operating a direct payment scheme to be made in lieu of home care services, for adults assessed as needing more than ten hours home care a week.
How to access or apply for it:
What to expect then:
A short-time care option to support individuals through a period of illness or crisis and to offer a period of support and assessment to help determine your longer term needs.

This service will work with the individual and their carers to provide a flexible package of care to meet the assessed needs throughout a six week period. This might help you remain in your own home through illness or other crisis, or support your discharge from hospital or residential care.

Throughout the six-week period, regular reviews of your care package will take place. This will enable the team, the individual and their family or carers to plan for longer term needs should you continue to need support.
Classification(s):
Info last updated:
22/11/2017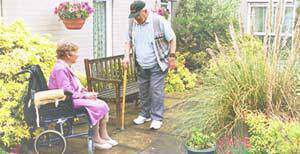 Provider

County Hall, Beverley, HU17 9BA