Intergenerational Project
Intergenerational Project in Kensington and Chelsea
What does it do?
Our Intergenerational Project uses young volunteers aged 16-25 from local schools and colleges to support older people with a range of services. By bringing the generations together, the project aims to create relationships of mutual support and understanding.
Computer Project
This project matches older people with young volunteers to help them make the most of techonology such as computers, tablets, digital cameras and mobile phones. This project is aimed at people who are not able to go to computer classes due to frailty, or because they do not have the confidence. Laptops can be loaned to those without a computer, and we can provide technical assistance with setting up internet connections.
Reading Project
Our young volunteers can help visually impaired older people with a range of tasks, from help with everyday administration to reading a book or newspaper of interest. Many members are referred shortly after being registered blind and the volunteers can provide a essential support as they readjust.
English Language Support
This scheme matches an English speaking young volunteer with an older person looking for extra support to improve their spoken English. The emphasis is on everyday communication in natural situations. Small conversation groups have developed to give people a relaxed environment to practise their spoken English.
Alongside the regular weekly projects listed above, we also run a series of one-off projects:
Digital Clinics
These are a series of drop-in sessions at various locations in Kensington & Chelsea where volunteers can provide one-to-one assistance with mobile phones, tablets and laptops. You can find the details of these in our newsletter, or by giving us a call on 020 8969 9105.
Acting Up
Run in collaboration with Holland Park School, Theatre ADAD and the North Kensington Crime Prevention Team, Acting Up is a summer drama project which brings older and younger people together. The project runs for two weeks, culminating in performances at the Electric Cinema in Portobello Road.
Who it is for?
Residents of Kensington and Chelsea, over the age of 55
Where it is available?
Local service (Kensington and Chelsea).
How to access or apply for it:
Simply contact us
What to expect then:
A member of staff will guide you through the process
Classification(s):
Info last updated:
05/04/2016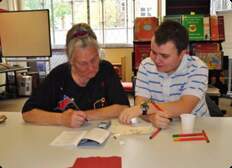 Provider

1 Thorpe Close, London, W10 5XL