Home Improvement Agency Service
Assistance to home owners in Orkney
What does it do?
We offer independent advice and assistance to help home owners repair, improve and adapt their homes so that they can live in comfort and safety in their own community.

The provision of advice and information is a central part of Care and Repair's role as well as providing practical assistance with grant applications and coordinating repairs. Care and Repair is a home-based and personalised service which puts the client in control of decisions.

Staff visit people at home and assist them through the entire process of deciding what work is to be done, arranging finance and organising the building works.

Each case involves an individualized approach; often staff must cross disciplinary and departmental boundaries, working closely with Health, Housing, Occupational Therapy and Social Work staff.

Building works are funded from a variety of sources; including local authority grants, benefits, own savings, equity release, home loans and charitable funds.

Although Orkney Care and Repair cannot pay for the works, we can:

- Advise and help with an individually tailored range of housing options.
- Help you decide what repairs are needed.
- Give you an idea of how much the work will cost.
- Help you find suitable builders or use our own Small Repairs and Adaptations Service where possible
- Assist you to fill in forms and organise paperwork.
- Help you cope with problems and upset in the home while the work is being done.
- Organise plans and specifications.
- Give advice on and help apply for grants and loans.
- Compile a financial package of assistance to enable works to proceed.
- Put you in touch with other agencies which may be able to help.


Who it is for?
home owners
How to access or apply for it:
See contact details above
Classification(s):
Info last updated:
31/03/2021
Provider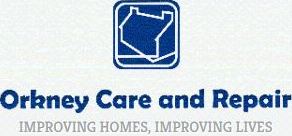 15 Victoria Street, Kirkwall, Orkney, KW15 1DN