Bus Passes
What does it do?
The English National Concessionary Travel (ENCT) Scheme offers free travel to residents who are over 60 or disabled, on local buses throughout the country.
Journeys are free after 9.00am from Monday to Friday and at any time at weekends or public holidays.
Who it is for?
From 06 April 2010, the age of eligibility for concessionary travel for women will be pension age and for men it will be the pensionable age of a woman born on the same day.

People who are blind or partially sighted people
People who experience severe difficulty in walking
People with learning difficulties
People who are sensory impaired
People not permitted to drive on medical grounds
People without the use of both arms
Companions of people with disabilities who, without such companions, would be unable to use public transport
ENCT Cards are only available to permanent residents of the Borough of Hastings and St Leonards - they are not available to visitors.
Where it is available?
Local service (Hastings).
How to access or apply for it:
You must visit Hastings Information Centre in person to apply for your ENCT Card and provide us with proof that you live in Hastings or St Leonards. Your photograph will be taken to use on your pass.
In addition, you will need to show proof of entitlement, such as a driver's licence, passport or documentary evidence that you qualify under one of the categories listed under 'Who Can Apply?'.
If a companion of the disabled person is applying then a doctor's letter stating 'the disabled ENCT Card holder needs a companion' is required.
Additional information:
You can use your ENCT card to travel for free after 9.00am on any bus journey in England and at any time weekends or public holidays.
The ENCT card is not valid on rail journeys or to purchase season, express coach, excursion or similar tickets.
Companions can travel free within Hastings and Rother. If the journey starts in Hastings and Rother the outward leg of the journey for the companion will be free, but they may be charged for the return leg of the journey from outside the Hastings and Rother area.
The rules about companions may vary from area to area, so if you're travelling outside Hastings, it's best to check with the relevant local authority.
Classification(s):
Info last updated:
19/11/2010
Provider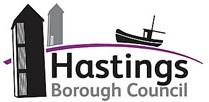 Queens Square, Hastings, East Sussex, TN34 1TL