Personal, Domestic and Social Care
Community Care Provider
What does it do?
Our Personal Care services provide hands-on help with those basic functions of life, all provided with sensitivity to the emotional issues so often connected with an inability to perform these essential functions. Our team are trained to ensure that the appropriate safety precautions are taken to promote health and well being.
Support with daily living can cover various tasks that you may have difficulty with; for example feeding, bathing or dressing yourself, remembering to take your medication and shopping. Our support means that your life will be made so much easier and our services cover a wide range of tasks. This may include getting up and dressed, preparing meals, assisting to the toilet, help with taking medication, assisting with paperwork, and general companionship.
We can support you with your daily routine and offer assistance with all aspects of pesonal care such as shaving and hair care, etc.

Who it is for?
People within the community who can no longer carry out certain functions themselves and who want to remain in their homes.
We provide for the elderly, young, disabled, dementia sufferers and those requiring rehabilitation.
Where it is available?
Local service (South Derbyshire).
What it costs:
You may be able to apply for help towards the cost of our services or full costs covered from Derbyshire County Council Services. Or, if you wish to pay for our services directly please contact us to discuss costs.
How to access or apply for it:
You can apply directly with ourselves or via Derbyshire County Council Services.
Additional information:
Bosworth Homecare will work with you to create an individual support plan to ensure you achieve your desired out comes in the best possible way. Plans can be short term or long term, from a few hours per week to daily care. We work with adults of all ages with varying needs, as well as those requiring rehabilitation after an accident or Dementia care.
Bosworth Homecare is here to look after you and your loved ones, by providing the necessary levels of care and support that help you maintain independence in your own home. Give us a call today or complete the form for further information.

Useful Download(s):
Classification(s):
Info last updated:
23/09/2020
Provider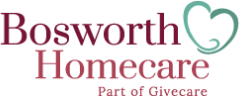 Unit 7 Woodhouse Business Centre Woodhouse Street, Swadlincote, Derbyshire, DE11 8ED