Nursing care at home
nursing care at home, home nurse, matron
What does it do?
Deliver community health services to patients in their own homes. The teams deliver urgent and planned care to patients helping to prevent avoidable admissions to a main hospital and to promote a healthy lifestyle as well as to maximise independence at home.

Community Matron Service
Community matrons offer intensive case management for patients with many long term health conditions or patients who are regularly admitted to hospital.

Matrons work with patients and their family/carers to manage long term health conditions and plan for any changes of their conditions with the aim of keeping the patient out of hospital where appropriate.

Patients under the care of a community matron will have access to multidisciplinary assessment (assessment by more than one health specialist), treatment and care plans to support the patient and their family/carer to manage the long term conditions more effectively.

The nurse that sees a patient may refer them on to other members of the multidisciplinary team if needed, for specialist advice and support.

The Community Matron Service provides a range of services for patients with a range of long-term health conditions. These include:
- multidisciplinary and medical assessment
- intensive case management
- intravenous (IV) drug administration
- medicines management specialist care
- specialist care and treatment planning
Who it is for?
for adults (over 18 year olds) living in Shropshire, Telford and Wrekin who are unable to travel to access specific health care services from their GP or other NHS health care providers.

Teams also work closely with partner agencies to deliver end of life (palliative) care to patients and their families, supporting people to die at home if this is their preferred choice, and with other specialist services in the community, such as specialist nurses, adult health assessment teams through the Diagnostics, Assessment and Access to Rehabilitation and Treatment (DAART) service, wheelchair services, community equipment services and the local hospice.
Nurses or therapists that you may see may also refer you to other members of the multidisciplinary team if you need more specialist advice and support.
Where it is available?
Local service (South Shropshire, Telford & Wrekin, Bridgnorth, North Shropshire, Oswestry, Shrewsbury and Atcham).
How to access or apply for it:
Contact your Locality Clinical Manager (LCM):

North West (Oswestry), Donna Jones, Phone: 01691 663600

North East (Whitchurch), Tara Ashley, Phone: 01948 666292

Central (Shrewsbury), Mandee Worrall, Phone: 01743 277500

Telford, Sam Townsend, Phone: 01952 580300

South East (Bridgnorth), Rachel Mole, Phone: 01746 762641

South West (Ludlow), Holly Bowles / Katie Turton (interim), Phone: 01584 872201
Classification(s):
Info last updated:
30/12/2019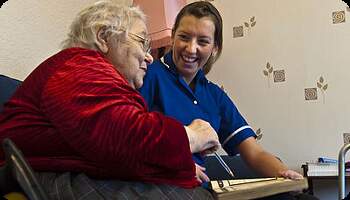 Provider
Shropshire County Team, William Farr House, Mytton Oak Road, Shrewsbury, Shropshire, SY3 8XL