Transport Services
Community Action Fareham
What does it do?
Dial-a-Ride in Fareham & Gosport What is Dial-a-Ride?
Dial-a-Ride is an easy access, door-to-door transport service using specially adapted vehicles, equipped to carry passengers with or without wheelchairs. All vehicles are fully accessible with a lift.
Who can use Dial-a-Ride?
Dial-a-Ride can be used by residents of the boroughs of Fareham and Gosport who have difficulty or discomfort in using public transport for any reason. The reason can be long or short-term.
What can Dial-a-Ride be used for?
Dial-a-Ride trips can be used to travel anywhere and for any reason within the boroughs of Fareham and Gosport, except for journeys to hospital appointments, day centres or your GP. These trips should be arranged by the hospital, Voluntary Car Scheme, Social Services or your doctor. We cannot promise to have a vehicle free every time you want to go out as we only have a limited number of vehicles, but we will always do our best to help.
When is Dial-a-Ride available?
Dial-a-Ride trips run from 9am to 4pm, Monday to Friday. If you can be flexible about when you travel, it really helps us to make good use of the service. You can book up to two trips a week.
Voluntary Car Scheme
Fareham Voluntary Car Scheme is a volunteer-run door to door transport service in Fareham town centre and Titchfield village. It is available to older or disabled people who do not have their own transport or are unable to access public transport. It is one of many schemes in Hampshire and a member of the Good Neighbours Network.
What trips are covered?
The car scheme provides transport to healthcare appointments including:
Clinic appointments: GP, dentist, optician, podiatrist, physiotherapist
Hospital appointments in Portsmouth, Southampton, Winchester and Havant
Who it is for?
People in Fareham area

Where it is available?
Local service (Fareham).
What it costs:
Contact for details
How to access or apply for it:
See contact details above
Classification(s):
Info last updated:
06/04/2017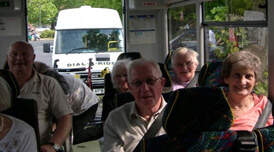 Provider
163 West Street, Fareham, Hampshire, PO16 0EF