Tavistock Country Bus
Tavistock Country Bus
What does it do?
Tavistock Country Bus is the operating arm of Tavistock Community Transport Association. We were formed in September 1981 and will celebrate our 35th birthday in 2016.
Two people, Mike Wills and Roy Reynolds joined together with other like minded and concerned people to form TCT as a charitable organisation providing a bus service to all citizens of Tavistock and the surrounding area regardless of age, where commercial services could not operate for financial reasons.
All Tavistock Country Bus staff are volunteers and our bus is maintained to PCV standards, with no financial support from any County Council other than the reclamation of fares from the users of Concessionary Bus Passes. We are also very fortunate that both Cornwall Council and Devon County Council have given us sizeable cash grants in the past to help us purchase replacement vehicles.
We would like to take this opportunity to thank Devon County Council for supporting us in the creation of this web site using money from the Department of Transport Sustainable Community Transport Fund.
We have also received a grant from The Big Lottery Fund to support our continuing work.
Our bus is registered as a Section 22 vehicle, this has implications for us in that we have to register our services with the Western Area Traffic Office of the Traffic Commissioners and our services have to run as stated in our timetables. Our bus also holds a Class 7 MOT, just the same as a double-decker and is inspected every six weeks to ensure that it is safe to be on the road.
Our intention is replace our buses every five years depending on whether we have the funds to do so. Our current bus cost us just under £50,000 in 2009/10 and we hope to replace it in 2014, at which time we will need a low floor easy access bus in order to comply with national legislation. Currently, such vehicles cost in the region of £70,000 to £100,000 so we have an uphill struggle on our hands.
Who it is for?
People in Tavistock area
Where it is available?
Local service (West Devon).
What it costs:
Contact organisation for more details
How to access or apply for it:
See contact details above
Classification(s):
Info last updated:
07/03/2017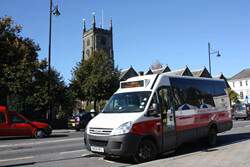 Provider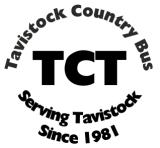 113 Old Exeter Road, Tavistock, Devon, PL19 0JB