Lambeth and Southwark Community Transport (LaSCoT)
Lambeth and Southwark Community Transport
What does it do?
Lambeth and Southwark Community Transport (LaSCoT) has been helping the community in Lambeth and Southwark to get out and about since it was founded in 2001 to provide community transport services in the boroughs. In 2006, we joined award-winning social enterprise HCT Group and we provide a range of high-quality transport for the community in Lambeth, Southwark and beyond. Our services include:
Minibus hire – a low cost alternative: We provide community groups, clubs and non-profit organisations in Lambeth and Southwark with a financially supported scheme to access cheap minibuses - Group Transport.
Minibus driver training: We provide Minibus Driver Awareness Scheme (MiDAS) training, helping our community group members drive vehicles themselves, saving on having to hire a driver with their vehicle.
Passenger Assistant Training (PATS): PATS is the nationally recognised qualification for passenger assistants, passenger carers and other equivalent job or volunteer roles.
Safeguarding Adults Training: Staff from all areas of Adult and Community Services need an awareness of the Safeguarding Adults agenda – we provide fully contextualised training for people in transport roles
Dial-a-Ride: We deliver a variety of Dial-a-Ride services under contract across London.
College transport: We are working with FE colleges in Lambeth and Southwark to ensure their learners can get to college
Who it is for?
People in Lambeth and Southwark
Where it is available?
Local service (Lambeth, Southwark).
What it costs:
Contact for more details
How to access or apply for it:
See contact details above
Classification(s):
Info last updated:
05/03/2017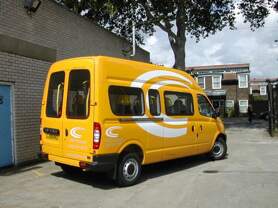 Provider

Surrey Wharf, 30 Malt Street, London, SE1 5AY