Promoting Independence
Support service helping older people
What does it do?
Promoting Independence is a support service helping older people to live happier and more active lives, no matter the health challenges.
Age UK Norwich is working closely with GP's and health professionals in Norwich to identify people over the age of 65 whose health might benefit from support to improve their overall wellbeing. Our staff and volunteers can help individuals to overcome a difficult life transition such as a change in health, a bereavement or a move to a new home. Research has shown that older people that stay active and social feel better about themselves – they have more confidence, a greater sense of purpose and improved wellbeing.
How does it work?
If your GP or health care worker thinks you would benefit, one of our team will get in touch for a chat and to see if you would like to be involved, you can say 'no' at any stage.
If you agree, you will be offered support for up to 12 weeks from a staff member or volunteer who will talk through what changes you would like to make to the way you are living, how things could improve, what you would like to achieve and what is stopping you from doing this.
For example, we could help with
• finding social activities in your area
• reconnecting with friends and family
• getting more exercise
• eating well
• confidence issues
It could be as simple as rearranging your kitchen cupboards to make it easier for you to reach things.
By working towards some of these non-medical goals, you will hopefully see an overall improvement in your general health and wellbeing.
Age UK Norwich offers a wide range of services, we're here to listen, support and offer advice. If we can't help, we'll do our best to put you in touch with someone that can!
Who it is for?
Older people in Norwich
Where it is available?
Local service (Norwich).
How to access or apply for it:
See contact details above
Classification(s):
Info last updated:
13/04/2016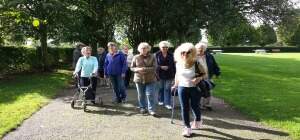 Provider

60 London Street, Norwich, Norfolk, NR2 1JX