Activities & events
Activities & events for older people in East London
What does it do?
Our projects comprise a variety of activities which aim to support and enhance your health & wellbeing and independence. We believe that enabling people to have the tools to manage their own wellbeing, with opportunities for social interaction is an important foundation for wellbeing.
We provide a whole range of exciting opportunities and interesting approaches to better health:
Nordic walking
Digital Inclusion (computers, internet, smart phones, tablets/ipads)
AgeWell
A voice for older people
Appian Court Resource Centre

Some of our other health services include:
Healthy cooking & eating cooking clubs;
Health workshops;
Ty Fit (dynamic chair based exercise),
Zumba groups;
Smovey classes;
Art and crafts
Social activities including tea dances, cultural outings, trips;
Signposting to health information and other services through outreach;
Day and Resource Centre opportunities;
Cancer awareness raising through outreach
Outreach Services
Navigator Services
These are delivered through a range of projects and stand alone activities:
AgeWell (Hackney), Century Court (Hackney), Cancer awareness (Tower hamlets), Appian Court Resource Centre (Tower hamlets), Linkage Plus (Tower hamlets), Nordic Walking (Hackney, Newham & Tower hamlets)
Who it is for?
Older people in East London
Where it is available?
Local service (Hackney, Tower Hamlets, Newham).
How to access or apply for it:
Classification(s):
Info last updated:
02/07/2015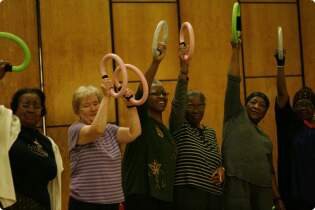 Provider
Age UK East London