North Ayrshire: Independent living > Foot/Nail services services
1 - 1 of 1 Foot/Nail services services in North Ayrshire.
Footsteps Ayrshire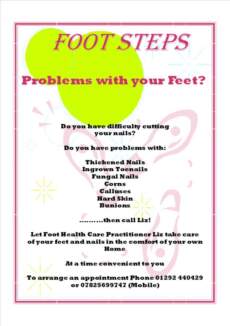 Footsteps Ayrshire
Liz Neill MCFHP MAFHP of Footsteps Ayrshire is a mobile practicing Foot Health Practitioner in the Ayrshire area.The services Footsteps offers include: routine nail cutting and filing, treatment of corns and calluses, ha...
Contact:
Liz Neill, Prestwick, Ayrshire, KA9
.
back to directory of Foot/Nail services.